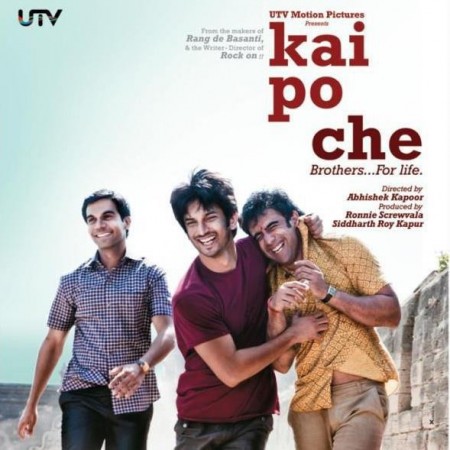 The youth-oriented movie "Kai Po Che!", based on Chetan Bhagat's novel "The 3 Mistakes of My Life", is riding high on success at the box office.
Abhishek Kapoor's directorial film is maintaining a strong hold at theatres during weekdays. On Monday it minted approximately ₹3.25 crore, which is 15- 20 percent less than Friday's earnings, and on Tuesday it raked in ₹2.95 crore.
The film collected approximately ₹24.30 crore in India within five days of its release.
The business of the movie remained stronger in Mumbai, Pune, Kolkatta, Bangalore, Delhi, Mysore, CI and Rajasthan. The collections remained poor in circuits like UP and East Punjab.
Despite not having a superstar cast, the film is running at the box office purely for its refreshing content and rave reviews. After collecting around ₹24 crore in five days, the film is expected to complete its first week with ₹30 crore in its pocket.
Today, a film is deemed a commercial success when it enters the elite ₹100 crore club. Surprisingly, director Abhishek Kapoor is not aiming for the film's earnings to reach the said mark.
"I think it (₹100 crore) is silly. Beyond that I would not like to say anything. For my films I never aimed for them to do X amount of business. All I want is the audience to like and enjoy the film," Kapoor told PTI.
"As far as Kai Po Che is concerned I don't aim for any number or figures. I am happy I have touched the hearts of audience. Their reaction to the film holds more value to me than anything else," he said.