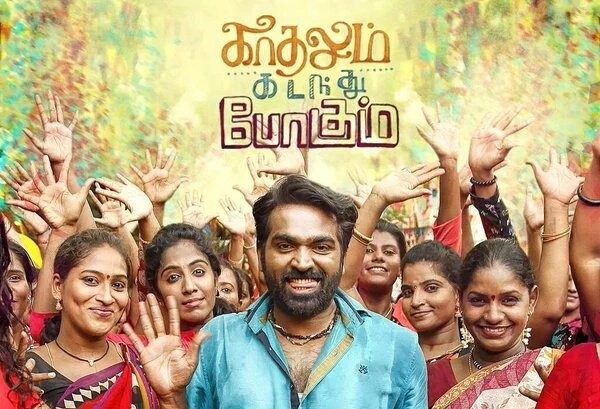 Vijay Sethupathi and Madonna Sebastian-starrer "Kadhalum Kadanthu Pogum" has garnered praise from critics for its good content and brilliant performance from the lead actors. Director Nalan Kumaraswamy has narrated a normal story with freshness, which makes it a different film.
Read Audience Review of 'Kadhalum Kadanthu Pogum'
The setting is not unusual as it is about an educated girl falling in love with an illiterate. But the best part is the way their unconventional love story is built in "Kadhalum Kadanthu Pogum." A small-town girl Yazhini (Madonna) escapes from her home to pursue her dream of working in an IT company. As the girl wished, she gets a job and soon she starts experiencing good life style.
But her company is closed and suddenly she becomes jobless. This forces her to shift to a different locality, where she meets the hero and gangster Kathir (Vijay Sethupathi), who dreams of owning a bar. The remaining part of the story is about how their relationship blossoms.
Apart from good narration and wonderful performances from Vijay Sethupathi and Madonna Sebastian, it has impressive music composed by Santhosh Narayanan and top notch cinematography and editing. "Kadhalum Kadanthu Pogum" is the remake of Korean film "My Dear Desperado." Here, we bring to you the critics' reviews to the movie:
The Times of India Review: The director is clear that this is as much Yazhini's and Kathir's story as it is the story of their romance, and so we get elaborate story arcs that make these characters feel almost real.
Hindustan Times Review: Packed with wit rather than violence, the movie has us tickled with innumerable one-liners. For example, when Kathir asks fellow diners in a roadside eatery to keep their mouths shut, one lone female voice quips, but how do we eat then?
Rediff Review: The best part is that, though the film revolves around Kathir and Yazhini, they are just small players in the larger story.
Behindwoods Review: Kadhalum Kadandhu Pogum is also a very visual movie. Meaning the visuals contribute as much as to the story as the subjects playing characters. Cinematographer Dinesh Krishnan and editor Leo John Paul has delivered their best for the movie.
Sify Reviews: It's been ages since we have seen a classy rom-com in Tamil cinema. No, we are not talking about the regular comedies in Tamil cinema with a love track, colorful visuals and soothing melodies. But here is a film where you instantly fall in love with the protagonists; they are not perfect but real with sharp performances.