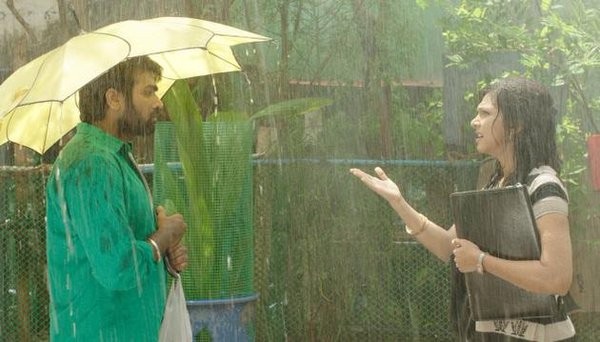 Vijay Sethupathi-starrer "Kadhalum Kadanthu Pogum," which is also spelt as "Kadhalum Kadandhu Pogum," has opened to positive reviews. It has been written and directed by Nalan Kumaraswamy, who had earlier worked with Vijay Sethupathi in hit flick "Soodhu Kavvum."
Click Here to Watch the movie stills
Malayalam actress Madonna Sebastian is making her debut in the Tamil industry with "Kadhalum Kadandhu Pogum" and she has paired up with Vijay Sethupathi. The Kollywood movie has Santhosh Narayanan's music and three songs like "Ka Ka Ka Po," "Paravai Paradhuchu" and "Akkam Pakkam Par" have become hits.
"Kadhalum Kadanthu Pogum" has Dinesh Krishnan's cinematography and Leo John Paul's editing.
The Tamil movie is a remake of Korean romantic drama, "My Dear Desperado."
After coming to Chennai, Yazhini (Madonna Sebastian), who is the daughter of Railway Station Master played by KSG Venkatesh, loses her job. With this, the struggles for survival begin in her life and she is forced to occupy a cheap accommodation. Kathiravan (Vijay Sethupathi) stays next to her house and works for a local don and politician. His dream is to own a bar and get settled in his life. Situation brings them together and how their lives change their after forms the crux of the story.
Average Ratings Given by Audience: 3
Reviews:
"Kadhalum Kadanthu Pogum" is a feel-good entertainer and has a good story. Vijay Sethupathi, as always, comes out with flying colours and Madonna Sebastian is impressive in her role. People have fallen in love with her expressions and it is a good start for her in Kollywood.
Quirky presentation shows the brilliance of Nalan in the craft and he has got the best out of cinematographer and music director. The slow narration and over-dramatic scenes will not have much impact on the overall content. Here, we bring to you the viewers' response to the film:
Kaushik LM tweeted: #KadhalumKadanthuPogum - 3/5.. Neat time pass. Relaxed outing guaranteed. Lotsa Quirky fun, some drama, some romance, feel-good ending.
#KadhalumKadanthuPogum - Despite the entertaining #VijaySethupathi by her side, pretty #MadonnaSebastian has a confident, dignified outing
#KadhalumKadanthuPogum Feel-good tale where romance blooms in the end. Watch it for #VijaySethupathi's typically uninhibited show. Lotsa fun
#KadhalumKadanthuPogum 2nd half -All scenes with #VijaySethupathi in the suit are super entertaining. Interview scene ragala. Crowd enjoying
#KadhalumKadanthuPogum 1st half - Nice interval moment. Good response among the Kasi crowd. #VijaySethupathi owning such sirippu rowdy roles
#KadhalumKadanthuPogum 1st half - Unhurried tale of a small-time wannabe thug & a gal desperate for a job. Lotsa Charming, fun moments
Haricharan Pudipeddi wrote: Give #VijaySethupathi any role and he can sleepwalk through it without making you feel bored. So bloody good in #KaKaKaPo
#VijaySethupathi and #MadonnaSebastian make a great acting pair in #KadhalumKadanthuPogum. So good in their respective roles.
#KadhalumKadanthuPogum knows how to strike a balance between romance and dramedy. Quirkiness comes alive in almost most scenes. Loved it
Lovely, lovely film is #KadhalumKadanthuPogum. Nalan makes even the most predictable moments stand out with his quirky presentation.
Rajasekar wrote: Loved #KadhalumKadanthuPogum , a classy rom-com. Bit slow but gr8 watch 4 the superb writing and soulful performances of the lead actors
#KaKaKaPo - Madonna's subtle graceful expressions are big plus, so far so good. Waiting for the second half :)
#KaKaKaPo - Breezy first half, completely in love with the film. Three cheers to Nalan for super quirky dialogues. Madonna, VJS perfect
Dilani Rabindran posted: After VijayS #KaKaKaPo's standout pt is its impeccable cinematography. To see such detail in a heroine's eyeliner deserves applause alone. Enjoyed @Music_Santhosh 's tracks for #KaKaKaPo but found the BGM to be a bit overdramatic at times given the light & airy visuals
ChristopherKanagaraj posted: #KaKaKaPo 2 superb scenes : One is the viluppuram portion where VS & Madonna meet her parents and second is the Avadi IT interview portion.
#KaKaKaPo | Vijay sethupathy sema.. Sumaar songs, Wondering wat made Nalan to select this remake, 2 scenes in the 2nd hlf r nice! Average!!
#KaKaKaPo - Average First half, Vijay Sethupathy as usual super, Madonna decent perf, gud cinematography, screenplay is not engaging!!!
Ramesh posted: #KadhalumKadanthuPogum [3.25/5]: A fun, romantic movie that gets serious towards the end.. An enjoyable outing due to writing & performances
#KadhalumKadanthuPogum [3.25/5]: #VijaySethupathi as the lovable loser is Top notch.. Intervw scene is a gud example for da gr8 actor he is
#KadhalumKadanthuPogum [3.25/5]: #MadonnaSebastian makes a strong debut in Tamil.. Will be 2-0 for her after #Premam - She is here to stay..
#KadhalumKadanthuPogum [3.25/5]: @raveena116 has done a great job giving voice to #MadonnaSebastian - #Samuthrakani stands out in supporting
#KadhalumKadanthuPogum [3.25/5]: @Music_Santhosh 's songs jus go with the flow of the movie.. Crisp editing by #LeoJohnPaul.. 2 hrs 17 mins
#KadhalumKadanthuPogum [3.25/5]: Dir @NalanKumarasamy has remade the Korean movie keeping our audience taste in mind.. A feast for da youth!
Nivas Kumar posted: First half over. Vijay sethupathy casual ah mass panranya. Padam fulla madonna coming .
#KadhalumKadandhuPogum. Vijay sethupathy & Madonna the best!!!! Sure pakka family entertainment . #KadhalumKadandhuPogum
Showtime : #KadhalumKadandhuPogum Oru payalum office, clge pogala pola. .. Almost houseful.