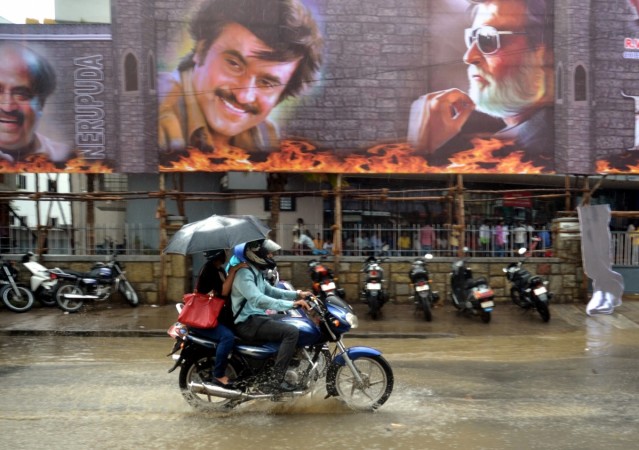 "Kabali" mania may have gripped Rajinikanth fans in Chennai and elsewhere, but in Bangalore, fans of the actor who were hoping to watch the film in style at five-star hotels, are in for a disappointment. A senior bureaucrat has denied permission to the hotels to screen the Rajinikanth-Radhika Apte starring film.
JW Marriott, Royal Orchid (Yelahanka), Crowne Plaza and The Lalit Ashok in India's 'Silicon Valley' were part of the India Inc. bandwagon riding high on the film's hype and eager to cash in on the Rajini-starrer's popularity. They had planned to screen the film and had sold tickets for as high as Rs. 1,300. However, the screening of the film will be a non-starter at these hotels because Bengaluru Urban Deputy Commissioner V Shankar has said no to the special screening for three days starting July 22, according to a report in the Bangalore Mirror.
The bureaucrat denied permission to the hotels using the provisions of the Karnataka Cinemas Regulation Act 1964 that regulate screening of films in the state.
Under the Act, the deputy commissioner is the licensing authority for places other than districts, where the authority is the district collector.
The law specifies on who can and who can't screen films in the state.
"Save as otherwise provided in this Act, no person shall give an exhibition by means of a cinematograph elsewhere than in a place licensed under this Act, or otherwise than in compliance with any conditions and restrictions imposed by such licence," according to one of the provisions of the Act.
The dampener comes after a Karnataka film fraternity body objected to the same. The Karnataka Film Chamber of Commerce had threatened to restrict the screening of the movie to multiplexes and not single-screen theatres. The reason was apparently business loss if the hotels had gone ahead with the screening.
Meanwhile, there is no dearth of crazy fans willing to pay upwards of Rs. 7,000 to watch the 65-year-old actor's film, produced by Kalaipuli S Thanu. AirAsia India has announced an offer carrying a price tag of Rs. 7,860 that includes a Bangalore-Chennai-Bangalore round trip flight, the first show of the film at Satyam theatre in Chennai, and lunch.