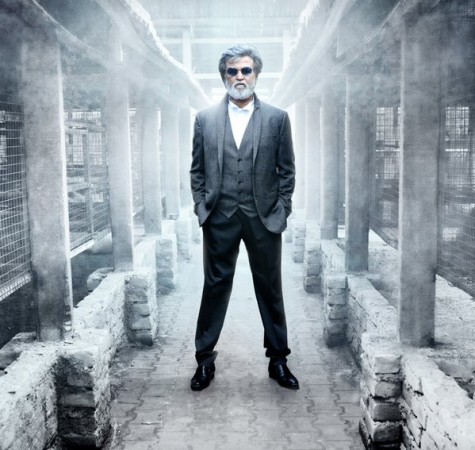 Rajinikanth's "Kabali," which has been released on Friday, July 22, has met with mixed reviews. The superstar's creen presence and Radhika Apte's performance have garnered good response but the overall content has failed to live up to the expectations of the cine goers.
Just in - 'Kabali' First Day Collection | Theri 100 Days Celebration | Highlights of Rajini Starrer | Official Review
Santhosh Narayanan has composed the music and "Neruppu Da," "Mayanadhi," "Veera Thurandhara" and "Vaanam Parthen" songs from the album have turned out to be chartbusters. G Murali and Praveen KL have handled the cinematography and editing departments, respectively.
"Kabali" is a gangster movie, in which Rajinikanth plays the role of the character of a don (Kabaleeswaran aka Kabali). Radhika Apte will be seen as his wife named Kumudhavalli. Dhanshika plays a sniper and Riythivika plays a school dropout drug addict.
The story begins with Kabali getting released from a Malaysian jail after being imprisoned for over two decades. The gangster had stood for the equal rights of the oppressed Tamils in Malaysia and waged war against drug and prostitution mafia run by a Chinese don Tony Lee (Winston Chao). Now, his first job is to find his missing wife and eliminate his enemies. WIll he be successful? Watch the film to know it.
Reviews:
People have loved Rajinikanth's opening scene and his electrifying presence. The first 15 minutes, the interval block and Dhansika-Rajini's meeting are some of the highlights of the flick. But the major drawback remains the slow narration. Here, we bring you live updates from it. Find, the audience's response to the movie:
Average Ratings Given by Audience: 3
Kannan: #Kabali - Director Ranjith's story good but execution let down as the film neither works as gangster thriller nor moving emotional drama!!
#Kabali - It lacks technical finesse 4 a biggie as editing, cinematography & music could have been better as only #NeruppuDa stands out!
#Kabali - Rajni totally rocked as aged don with his style & charisma!! Radhika Apte acting brilliant whereas rest of cast just pass muster.
#Kabali - The film starts with terrific intro & has its moments but falls way short of expectations due to mediocre screenplay!! (6/10)
Sreedhar Pillai: #Kabali 3/5 .Loved @superstarrajini in his mature new avatar, but not the story and packaging. Somewhere something is missing.
#Kabali 3/5. It is neither a full meal @Rajinikanth movie nor a mini meal @beemji film, more of a fusion meal.
#Kabali 3/5. What worked 4 me best was @superstarrajini introduction, interval block & the emotionally charged family reunion scene.
#Kabali - 3/5. Liked @radhika_apte - @superstarrajini on screen romance, #Dhansika's performance. @Music_Santhosh BGM & Neruppu Da theme
KRK: It's interval n what an emotional film #Kabali! I am sure, it will be one of the biggest hit film of mega star Rajnikant.
What a great film #Kabali! Full of emotions n patriotism. It's going to be sure shot blockbuster all over south India. Salute to Rajnikant.
Can someone tell me name of the girl who played Rajnikant's daughter in #Kabali ? She is really hot n sexy.
Hey @saidhanshika you have done great job in #Kabali n you are looking really hot there. Your neck tattoo! Uff Qyamat!
Surendhar MK: If not for #Rajinikanth, #Kabali would have been a dud at the box office. He is the only saving grace. But it's never enough.
What a wasted opportunity #Kabali is. Wasn't expecting a hardcore #Rajinikanth film. But not even shades of Ranjith in the writing. #LetDown
Quite fragmentary. Underwhelming is the word. Except for #Thalaivar's occasional clap-worthy moments, nothing much to take home. #Kabali
Pics of Ambedkar, Mandela, Malcolm X, Vivekananda & Buddha on the walls lend no significance to the screenplay as much as it did in Madras.
How superbly @saidhanshika fits the bill. The surprise factor in the film. @radhika_apte was also good, as reliable as she has always been.
Kalyan P V S: Finished watching #Kabali, gr8 to see Rajini acting his age; a superstar movie made with simple & descent story! My rating 2.75/5 !
Sneha Murali: When he performs like this,ure too mind blown by what you're seeing to scream and whistle.Refreshingly different.Throughly enjoyed! #kabali
Sathish: ‪#‎Kabali‬ - Actress Riythvika Kp & Dhansika impresses in the first half, which completely belongs to Superstar's brilliant acting & awesome screen presence.
#Kabali First Half @beemji has shown to the world that Thalaivar is one of the best actor in Indian Cinema. Intro & scenes after it was MASS
#Kabali Can watch the movie again & again for first 15 Minutes Mass itself & then complete Class . Interval block will surprise u..
‪#‎Kabali‬ First Half - Ranjith has shown to the world that Thalaivar is one of the best actor in Indian Cinema. First 10 Minutes sema mass & interesting interval block.
Kaushik (LMK): #Kabali 1st half -To begin with, the older #Rajini's style,swag are magical. The movie then moves leisurely, picks up again towards interval
#Kabali 2nd half - The moving reunion scene is a plus thx to @radhika_apte. Otherwise, disappointing with the usual gang wars & bad climax
#Kabali -Falls way short of the huge expectations. A disappointing feeling. Neither a massy #SuperStar film nor a Madras level Ranjith film
#Kabali 2.75 / 5.. Except a few sparkling moments of mass and emotions, a big letdown.. Fans and audiences deserved much much better.
Sudhish Kamath: Love how #Kabali uses style as statement of empowerment & social equality. Staging of last act is a bit shaky but lots to like. Go watch. Catch Latest Updates of Kabali | Box Office Collection
Ramesh B: #Kabali [3/5]: Dir @beemji cld hv done a better job.. Except for sparks here & there, he lets down @superstarrajini fans.. Watch 4 Thalaivar
#Kabali [3/5]: @saidhanshika scores big time in the movie.. Her attitude and stylish actin deserve lot of applause.. A milestone movie 4 her
#Kabali [3/5]: @radhika_apte shines.. Her acting during the reunion scene with @superstarrajini in the 2nd half is simply out of the world..
#Kabali [3/5]: @superstarrajini 's intro scene is Mass Mersal.. His verbal duels with the villains throughout the movie are da highlights..
#Kabali [3/5]: @superstarrajini as the aged don is simply superb.. His style, mannerisms, acting and swag work big time.. He is the man..
#Kabali [3/5]: A decent gangster movie with lot of family emotions.. Nothing great.. Not bad either.. @superstarrajini saves the movie..
Vignesh Kandaswamy: #Kabali -Interval - So far okay. Good start followed by a slow 30 mins hampered the narration. Last half an hour brought the excitement back
#Kabali - Superstar has given his best at this age. Nice to see him take the back seat at some portions and let others perform. A new kind.
#Kabali - Flashback portions, thundering start and Santhosh BGM are the major +ves of first half.
Sidhu: #Kabali Interval: Good goods. Amazing mass startup, and then the emotions take over. Strong music and cinematography.
#Kabali: Average. Partly satisfying drama which blows hot and cold. Rajinikanth totally rocks his role, Ranjith not too much.
#Kabali: Ranjith gets the action & the swag right, presenting Rajinikanth in a way we haven't seen him. It's the emotions that don't gel.
#Kabali: Technically rock solid in each department. SaNa has delivered his best in the background score, hugely riveting music.
Got tickets. Got in. Got seated. Magizhchi, the show begins. #Kabali
ChristopherKanagaraj: #Kabali - Its neither Rajini film nor Ranjith film, falls in between. Superstar's screen presence v make this slow paced film a watchable 1.
@rajkarnalli i said watchable and never said 1 tym watch:) moreover its superstar film, i vl watch n number of times:)
#Kabali - Good work with the subtitles. @rekhshc and team. My Hindi friend was able to enjoy completey !! Thanks @beemji @theVcreations
Ashwin Krish: No big introduction. First frame is pretty ordinary. But there is a grand intro little later #Kabali. #Kabali doesn't have a single boring moment. But you need huge suspension of belief just like any bullet spraying gangster film.
Santosh Narayanan BGM work is stupendous! The horn that comes is so haunting #Kabali
#Kabali Overall a party for Rajini fans. But for those that enjoyed Ranjith's Madras, better to temper your expectations
@BUSHINDIA an average gangster film sir. You should leave logic out. has a bit of an emotional thread in plot. Very disappointing
Muhammed Arif: #Kabali...opening intro and fight mersal... thalivar body language vera level..
Positive entry..block buster on the way..
#Kabali big salute to super star giving such kind of performance at this age!!! He put lots of hardwork on this water thin story!!
What a great film #Kabali! Full of emotions n patriotism. It's going to be sure shot blockbuster all over south India. Salute to Rajnikant.