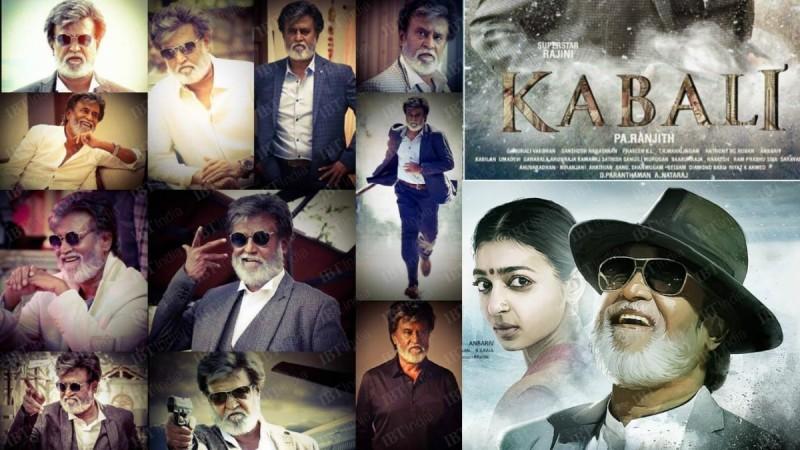 Are unbelievable stunts and punchy dialogues the only factors that make a Rajinikanth movie successful? If yes, then "Kabali" has these factors, though not on the scale of typical Rajini films.
What you get to see more in the film is the emotional side to Rajinikanth - a person who wants to deeply redeem the 25 years of jail life and the loss of his family. Rarely do viewers get to see this aspect of the superstar.
Kabaliswaran aka Kabali, who fights for the rights of Tamil labourers in Malaysia, becomes their gang leader in a short span of time.
The popularity he gains from the common people fuels jealously among Tony Lee (Winston Chao), Veerasekaran (Kishore), among others. Veera brainwashes Kabali's aide, Tamilmaaran (Charles Vinoth), the son of Tamilnesan (Nasser), who was the late leader of the gang, that he should have been the head of the group after his father's demise. This leds to a gang war in which "Kabali" loses his family and is conivicted for 25 years in prison on false charges.
The intro scene of Rajini leaving the prison after two and a half decades and the accompanying music gives you goosebumps, a moment when the entire crowd feels like cheering for the superstar. However, towards the end, the cheering losses its momentum as the film turns out to be an emotional thriller with very few mass scenes. People may not have expected the emotional side to be portrayed so strongly.
The half-baked storyline with few unnecessary scenes, which are not expected from a Pa. Ranjith directorial, makes "Kabali" weak. A movie sans the clichéd tried-and-tested Rajini style, but with an unusual climax makes it different and special for people who are not fans of Rajini's mass films.
Despite being a Rajini movie, the female actors Radhika Apte as Kumudhavalli and Dhansika as Yogi have equally important roles. The chemistry of Rajini and Radhika was convincing though there are only a few scenes of them together. Dhansika as an assassin and a caring daughter has done her career best in "Kabali." Others like John Vijay, Dinesh Ravi and Johnny Hari have also done their parts well.
Technical Aspects: "Neruppu Da," "Vaanam Paarthen" and "Maya Nadhi" are the best songs of "Kabali," which also has a thrilling background score by Santhosh Narayanan. Rajini's stunt sequences though, especially in the climax scenes, choreographed by Anbarivu turned out to be a one-man show like his usual action thrillers. The cinematography by G Murali, especially the night shots capturing the beauty of Malaysia, is a technical aspect that gets full marks in "Kabali."
Final take: "Kabali" will please you only if you can accept Rajinikanth sans his usual larger-than-life presence in movies. He is simple, yet his stylish persona with dapper three piece suits and dark glasses as well as the laughter impresses the audience.
The plot is weak and has many flaws. Expecting a lot from "Kabali" will disappoint you as there aren't any extraordinary mass moments that gives an adrenaline rush. Its a one-time watch if you are ready to accept the emotional side of Rajini. The first 20 minutes of the film is also worth a watch.