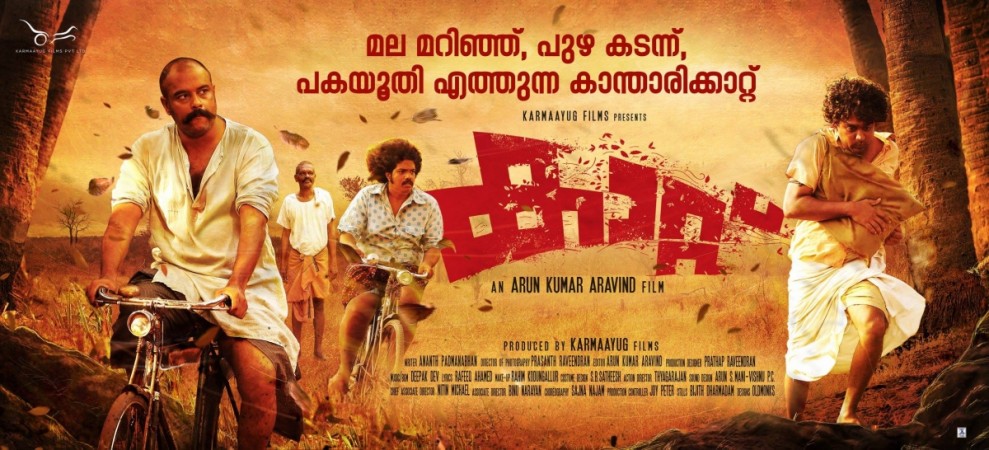 The Malayalam movie Kaattu, in which Asif Ali, Murali Gopy, Varalaxmi Sarathkumar and Manasa Radhakrishnan appear in main roles, was released in Kerala on Friday, October 13.
Storyline of Kaattu
Set in the rustic terrains during the late 70s, Arun Kumar Aravind's Kaattu is a slice-of-life tale with lead characters inspired from the short stories of late legendary writer and filmmaker P Padmarajan. While Asif plays Nuhukkannu, Murali dons the role of Chellappan in the film.
Meet unibrow heroine Manasa Radhakrishnan aka Ummukkulsu
Kaattu is the directorial venture of Arun Kumar Aravind, who is known for the movies Cocktail, Ee Adutha Kaalathu and Left Right Left. Meanwhile, Padmarajan's son Ananthapadmanabhan has penned the story of the film, for which Deepak Dev has composed the music.
Critics and viewers have been commenting positively on the movie, especially for the brilliant performances though it has a weak plot.
"The brilliantly etched out characters are pitted against this mesmerising backdrop. However, the movie lacks depth and substance and the plot is weak and damp. Though the dialogues are realistic, the pace is slow and the flow is often truncated by intrusions, often unwarranted sequences," writes Padmakumar K on Onmanorma.
Regarding the performances of the actors, Aswin Bharadwaj of Lensmenreviews says that Asif has carried the character efficiently.
"Asif Ali deserves to be appreciated for his well controlled performance as Nuhukkannu. It was a character that could have easily gone wrong as the mental state of that character was fragile. But he carried the character very efficiently. Murali Gopy manages to portray the rough and intimidating Chellappan neatly. Unni P Dev gets a more hefty character in this movie. Varalaxmi Sarathkumar was a convincing choice as Muthulakshmi and Manasa Radhakrishnan was okay as Ummukkulsu," he writes.
Here's what viewers have to say about the film:
Ajesh
Just watched Wow just amazing. We r moving to 1980s. I think one of the best perfomance by both ASIF-MURALI. A tipical padmarajan style movie. I don't know what i said becoz it's an extraordinary brilliant drama we r moving 2 old life like villages,festivals etc. Watched in theater duration must be little lag. But according to the movie story level and actors performance based this movie is the another HUGE SUCESS in all format
Brian
i cant say more. acting of asif ali and murali gopy were good. an emotional story set in 1970s. is a must watch for all cinema lovers.hats off t9 director
Ramees
Watched Kaatt.Awesome Movie With Powerful Acting by Characters.Asif and Murali Gopy were Extra Ordinary.Each Characters Perfomance were Good.Arun Kumar Arvind You are the Real Hero. Stunning Visuals and Good Background Music I Loved the Movie
Jithin
One of the best movie in the year :) Asif, murali, Manasa each and every one done a good job :) Must Watch :) deepak devs music was really good. 1st half liitle slow and the second half n Climax ✌️
Jamshid
Watched kaat.. I dnt know wat to say... One of the best first half in recent time& also nice 2nd half.. good direction. career best performance of Asif ali.. must watch... Sad to say occupancy in theater leassthan 50%
Vipin Raj
Murali and asif are awesome with there performance, not only them the entire cast is brighten their roles. Also hats off to deepakdev the music is great and also background score. Arun chettaa u are great, editing is marvellous,,,