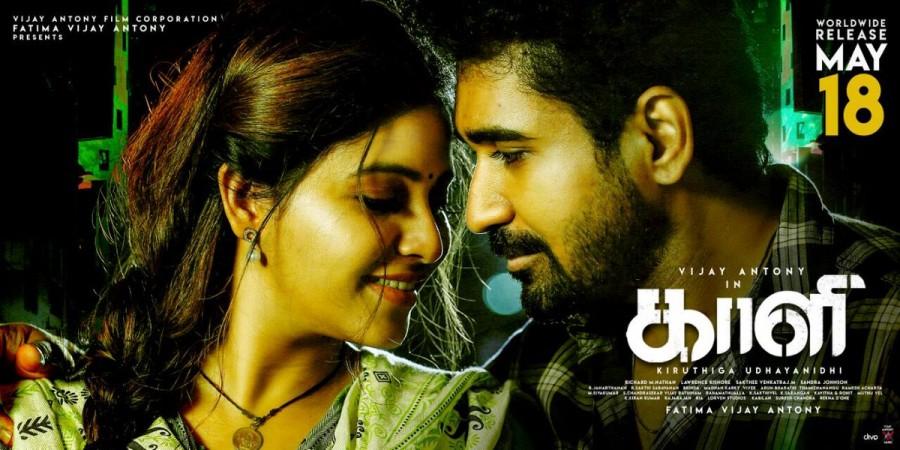 After a five-year break, filmmaker Kiruthiga Udhayanidhi has returned with Kaali. He has cast Vijay Antony, Anjali and Sunaina in the lead roles in the period drama. Rakesh Prudhvi, Nassar, RK Suresh, Yogi Babu and others are in the cast.
Vijay Antony, like he does for all his movies, has composed the music, while his wife Fatima has funded the project. The movie has Richard M Nathan's cinematography and Lawrence Kishore's editing.
Story:
Bharath (Vijay Antony) is an NRI-doctor. He gets the shock of his life when his mother falls ill. He wants his kidney to be donated to his ailing mother, but it doesn't match and eventually, the situation throws a bitter truth at him. The hunt for his real parents in India forms the crux of the story.
Hype
Vijay Antony has given a spree of hits since he took a break from music direction and turned actor. India Pakistan, Pichaikkaran, Saithan and Yaman are some of the movie which struck gold at the box office. The actor has been hailed for the kind of scripts he selects, but his previous movie Annadurai failed to live up to the expectations as it opened to mixed reviews.
Now, the actor is hoping to win new fans with Kaali.
The movie has managed to garner the viewers' attention with its promos. Also, Arumbey and Amma Alugiren songs have garnered good reviews. Hence, people are curiously looking forward for the film's release.
Reviews:
The movie, which has been dubbed into Telugu as Kaasi, is releasing in India on Friday. The morning shows are yet to start.
Sidhu: #Kaali Interval: Playing to the gallery. @iYogiBabu is the highlight of the proceedings, keeping the mood chilled out. Small surprise at the halfway mark, hope it pays off in the second half.
sridevi sreedhar: #Kaali 1st half sets the premise. Nothing much happening but moves at brisk pace Ever dependable #YogiBabu comedy is @vijayantony is @astrokiru @mrsvijayantony
Kaushik LM: #Kaali 1st half - A doctor travels from USA to India in search of his biological parents. The Amma sentiment connects well early on. #YogiBabu has a main part with his comedy. @vijayantony looks handsome.
Ramesh Bala: #Kaali [3/5]: Hero @vijayantony goes in search of his biological parents.. The past is narrated in 3 different interesting episodes..
Dir @astrokiru has used an unique approach in these episodes..
@vijayantony is gud as he plays different characters.. From action to emotion
#Kaali 1st Half : @vijayantony 's character goes in search of his biological parents..
#YogiBabu assists him in his search..
His one-liners are funny..
Interesting so far..
Review Ram: #Kaali - Interval - Starts interesting with a mystery element. Yogi Babu has provided good laughter. Few diff. ideas in the narration is appreciable. The flow is very sluggish with usual drama which makes the flavor old. Break scene makes the full 2nd half visible.
Manigandan KR: @vijayantony does a neat job in #kaali too as does @astrokiru who delivers a clean entertainer. @YogiBabu_offl does a fantastic job. Most of his punches work big time and these keep the film light and entertaining. #vijayantony @mrsvijayantony 1/2
2/2 Good to see @TheSunainaa back in action on the Tamil screen. She has a small but meaningful role in #kaali, which she handles well. A special word of appreciation for @ShilpaManjunat for playing her part convincingly. #VijayAntony @astrokiru @mrsvijayantony #KaaliFromToday
Sathish Kumar M: #Kaali First half @vijayantony goes in search of his dad, along with #YogiBabu.
#Yogibabu comedy works.
Waiting for the story and expecting an engaging second half.
Anand: #Kaali - #VijayAntony's another Family sentiment film with old type concept...
Highlights
#YogiBabu Comedy
BGM
#Sunaina Portions
Drawbacks
#Anjali Portions
Songs
Slow screenplay
Rating : 2.5/5
TrendsWood: #Kaali 1st Half Update
- Yogi Babu
- Flashback Portion
- Screenplay
Goldfishkapoor: Kali was such an amazing movie!! An edge of the seat, thriller that kept me hooked till the very last second. Too good. @dulQuer you were at your best. Wonder what took me so long to watch it. #DulquerSalmaan #SaiPallavi #SameerThahir #Kali