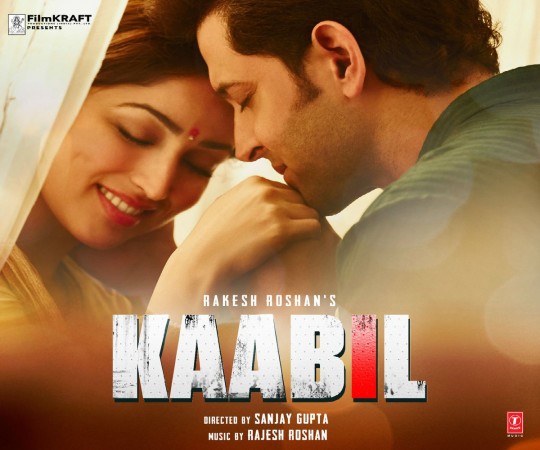 Hrithik and Rakesh Roshan held a special screening of their Bollywood film Kaabil ((Kabil)Telugu version Balam) for the Indian distributors, who are impressed with the movie and confident about its success.
Kaabil is one of the most awaited Bollywood movies and its promos and soundtracks have impressed the viewers. The movie is scheduled to be released in theatres on January 25. However, the film will clash with Shah Rukh Khan's most-hyped film, Raees, at the box office. This clash was said to have created dim prospects from the film among the buyers of its theatrical rights.
Hrithik Roshan and Rakesh Roshan were said to have held a special screening of Kaabil in bid to instill confidence among the distributors and cinema exhibitors from all across India. The makers screened about 50 minutes of the film at the screening. The exhibitors and distributors were thrilled with it.
The makers of Kaabil are said to be successful in gaining their confidence in the success of the movie. "The film is a sure shot blockbuster at the box office and will do extraordinary business. Hrithik has done a marvellous job in the film and he is bound to be appreciated by one and all," said a leading distributor after the screening.
Kaabil is a revenge drama, which has been written by Vijay Kumar Mishra and directed by Sanjay Gupta. The movie revolves around the story of Rohan and Supriya, who are visually impaired. Rohan and Supriya fall in love each other and start a life together. But Supriya is raped by two bad guys. Being blind, how Rohan takes revenge forms the crux of the story.
Hrithik Roshan and Yami Gautam are playing the blind lovers, while Ronit and Rohit Roy appear as baddies in Kaabil. Rajesh Roshan has composed music for the songs, which have become a hit with the audience. Salim-Sulaiman have worked on its background score for the movie.
Producer Rakesh Roshan has earlier worked with Hrithik Roshan movies like Krrish, Krrish3, Koi Milgaya, Kaho Na Pyar Hai, which have turned blockbusters at the box office. Now, Kabil brings them back together and this combo is expected to recreate the same magic in this movie too.