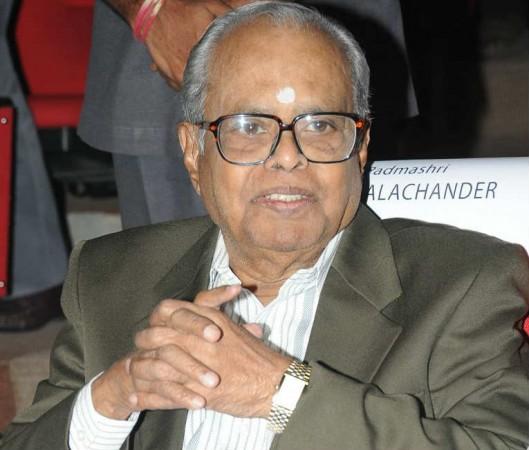 The death of legendary South Indian director K Balachander, who died of age-related illness at a private hospital in Chennai on Tuesday evening, has shocked the Telugu film industry.
Soon after hearing the sad news, many Tollywood celebrities such as Mohan Babu, Naresh, Trisha, K Raghavendra Rao, Sundeep Kishan, Manchu Manoj, AR Rahman, Lakshmi Manchu, Shruti Haasan, Priyamani, D Suresh Babu and others took to their Twitter pages and expressed their shock and sadness over the sudden demise of K Balachander.
Here are Telugu film stars' comments on K Balachander's death:
Mohan Babu M
The loss of legendary K Balachander is a loss to the industry. One of the truly maverick directors and genius ahead of his time. Beauty is that he lives on with his wonderful work he has created. Condolences to his family and may the great man RIP.
Naresh
Legend, dir K.BALACHANDAR is no more. R.i.p
Allari naresh
Rest in peace K balachander garu.....
Trisha Krishnan
A terrible lossRip KB sir
Raghavendra Rao K
బాలచందర్ గారు లేరు అనేది అత్యంత భాధాకరమైన విషయం. భారత చలన చిత్ర పరిశ్రమ కి తీరని లోటు. ఆ మహానుభావుడి ఆత్మకి శాంతి చేకురాలని కోరుకుంటున్నాను.
Sushanth A
Balachander Sir leaves us physically. His legend lives on! Was lucky enough to meet him once when he accepted ANR Award. RIP Sir.
Sundeep Kishan
2014 pls end fast...you have caused enough grevience so far..RIP Balachander sir..you shall always Be loved,cherished and missed..
Manchu Manoj
RIP Genius U Wil Live Forever in this world Uncle
Ram Pothineni
With the kind of Masterpieces that he's made #BalachanderGaru will live on for a really reaaallllyyy long time..You will be missed Sir..RIP
Sumanth
#RIPBalachandar garu! Heartfelt condolences to his family.
Navdeep
RIP balachander garu Ur memories and the lovely films u have given us will always be remembered as long as indian cinema is there.
Rahul Ravindran
Thought leader, path-breaker, visionary, genius.. No one like KB sir.. You will live forever sir... Your films will never rest in peace. What a man...What a stellar career..One of those ppl who respect to the art form,Who showed how powerful cinema can be in changing attitudes. It's impossible to pick a favorite KB sir film..but it'd have to be Bama Vijayam & Major Chandrakanth for me..Genius! Not to forget KB sir's Television gems.. Never watched much TV in my life except sports.. But would sit glued to the tube with amma.
Vennela Kishore
RIP K Balachander sir..1 of the finest directors of indian cinema who has nurtured many actors esp Kamal n Rajini sir
AR Rahman
Dear KB sir, your vision and creations have inspired 3 generations Really grateful for intro'ing me thru your co Kavithaalaya in Roja RIP!
Devi Sri Prasad
The Biggest Loss 4 Indian Film Industry.. RIP KB sir.!! The Greatest Legendary Director who created unimaginable Wonders!! Lov U always sir!
Lakshmi Manchu
K.Balachander sir RIP. You redefined cinema. You were one of the finest. A huge loss for the film industry.
Shruti Haasan
Rip kb sir ... Such a big part of my family and my fathers life and career - thankyou for inspiring us with your great work and life
Priyamani
Oh no!!very very sad news indeed...the industry has lost one of its rare jewels...though I did not hv the opportunity to work with him.. Had the opportunity to see the man a lot of times...RIP K Balachander sir!!!!You will definitely be missed :(
Vimala Raman
RIP #KB sir .... Deeply saddened Veteran legendary director K.Balachander sir has left us:( Feel honoured and proud to be introduced to cinema by him RIP my guru :( Thanku #KB sir for bringing me into the world of cinema and world of acting. Thanku for The legendary films you gave us :) RIP sir :(
Amala Paul
The film industry loses a legend! K Balachander sir is and will be one of the most inspiring filmmakers that I knw. A legend rests in peace. I remember once that I received an award from him.He touched my head and blessed me ,that memory will stay with me forever !! That was one of the golden moments in my life and I can never forget that effervescent smile of his. #RIPKBsir !!
Vidyu aka Vidyullekha
RIP #KB sir .... Deeply saddened. One of the best filmmakers in Tamil cinema... You will be missed sir.
Neetu Chandraa
Sad to hear about @K.Balachander sir. We lost a legend few mins. Ago. RIP #TamilNadu #Chennai
Vedhika
Saddened by the loss of luminary K Balachander sir...Rest in peace.
Pia bajpai
RIP K B sir..You will be Missed.!!
Kriti Kharbanda
RIP KB sir. Big big loss.
Suresh Daggubati
Its very saddening to hear that Legendary director K. Balachander Garu is no more. May his soul rest in peace.
Ram Gopal Varma
Want to express my heartfelt grief for the passing away of K Balachander, the only true maverick and path breaking director of all time
Harish Shankar S
RIP.... K BALACHANDER Sir .. a True Legend;
Neelima Tirumalasett
Rest In Peace Balachander Sir!
BVS Ravi
A true inspiration for many n one of those efficient few directors who can peep deep into hearts. #KBalachandar films were language to women's hearts.questions to society n answers to stalemates of emotions;challenge us&change us...
Gopichand Malineni
RIP to Legendary Director BalaChandar Garu....we miss u sir.
Veeru Potla
K Balachander sir , The God of Indian Cinema who's ahead of his times ,went ahead to enlighten the Gods about the human psyche.
Deva Katta
Trying not to feel sad or say RIP to KB sir....just goin to revisit and rejoice evry movie/character this GOD created! Luv u sir!!
Gopi Mohan
RIP to Legendary dir Sri K.Balachandar garu.Greatest inspiration to me as a director.Long live his Films. Never forget his films &his talent
Chiranjeevi Sarja
K.B sir may ur soul RIP.....
N Chandrababu Naidu
Deeply saddened by the passing of legendary director K. Balachander. His distinct film-making style & hard-hitting themes amused one & all.