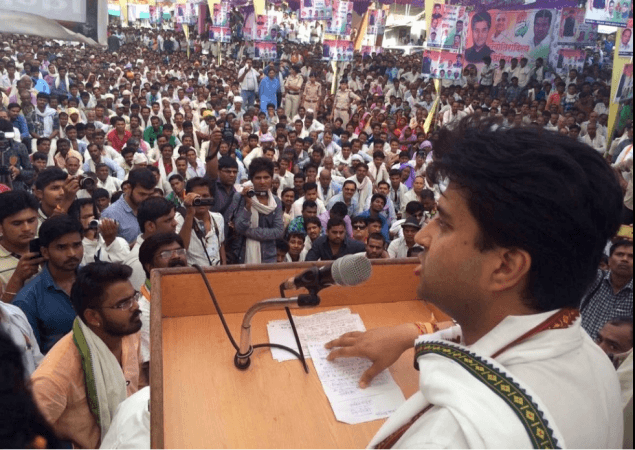 Congress leader Jyotiraditya Scindia clarified his remarks made on Wednesday about the need for a 'plebiscite' in Kashmir, saying later in the day that he was given a wrong Urdu word for "dialogue".
Scindia had used an Urdu word "rai shumari" for plebiscite while speaking about the issue during the parliament session. He added that the BJP-PDP government has "insulted" the "crown" of India.
The current situation has been hotly debated in parliament since the monsoon session began, after protestors took to the streets in Kashmir following top Hizbul Mujahideen commander Burhan Wani's death in an encounter.
At least 44 people, including a policeman, have died in the Valley during the last few days after security forces cracked the whip to contain the protests.
In Kashmir today, there is a need for plebiscite," Scindia said. "The PDP-BJP government has shed all the principles. Administration is divided and the government, which should support people, is using weapons against them," he said. He added that "the wounds there can be healed only through humanity."

"There is a need to create an environment of peace and tranquillity; growth and development," the chief whip of Congress added.
Later, Scindia tweeted, clarifying his stance.
Meanwhile, curfew was imposed in Srinagar on Thursday for the 13th consecutive day.
The Peoples Democratic Party in Jammu and Kashmir denied that the current unrest in the Valley was due to their alliance with the BJP. Instead, they blamed the actions of the Congress party and National Conference for the trust deficit.
During the session, senior PDP leader Muzaffar Hussain Baig urged the Centre to use its moral authority rather than military authority to solve the reigning issues in the Valley. He also expressed faith in the Centre and slammed Pakistan for its interference.
Meanwhile, Pakistan observed "Black Day" on July 20, which coincides with their Kashmir Accession Day. The government of Pakistan directed its officials to observe the day. Lashkar-e-Taiba founder Hafiz Saeed carried out a march in condemnation of the Indian government's actions in the Valley.
Jammu and Kashmir Chief Minister Mehbooba Mufti is expected to hold an all-party meeting on Thursday to discuss the current situation in Kashmir Valley.