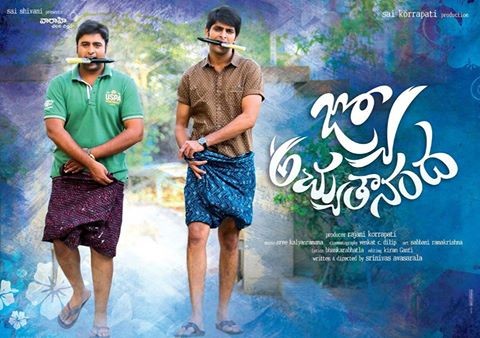 Director Srinivas Avasarala's Telugu movie "Jyo Achyutananda," featuring Nara Rohit, Naga Shourya and Regina Cassandra in the lead roles, has received positive reviews from the audience.
"Jyo Achyutananda" is a comedy movie, which revolves around the story of two brothers and a girl. Besides direction, Srinivas Avasarala has written the story and screenplay for the movie. He has done a wonderful job in scripting and has dealt with the conflict between two brothers in a classy and natural way, say the audience.
The first half of "Jyo Achyutananda" is engaging and Srinivas' one liners keep everyone entertained in this portion. Emotional drama keeps the viewers engaged in the second half of the film. However, the sentimental scene in the last 30 minutes of the movie drags and is a big letdown to the film, say the audience.
As brothers, Nara Rohit and Naga Shourya have delivered brilliant performances, which are the highlights of "Jyo Achyutananda." Regina Cassandra has got good scope in the film and she has done justice to her role. Nani has played a cameo role, which is an asset to the film, say the audience.
"Jyo Achyutananda" has been produced by Sai Korrapati under his banner Varahi Chalana Chitram and it has good production values. The background score, picturisation and punch dialogues are the attractions on the technical front. We bring to you some viewers' verdict on the film shared on Twitter. Here is the live update of the "Jyo Achyutananda" movie review by audience:
Pooja Mahesh ‏@PoojaDaPrincess
Good first half..last 30 mins is bo...oring #JyoAchutananda. nice portrayal of sibling love and conflict in few scenes... #JyoAchyuthananda
Chaitanya ‏@chaitanyakrk
Hilarious first half anta kada, comedy baga weak ga undi emo #JyoAchyuthananda
Raj C M ‏@RcMullapudi
#JyoAchyuthananda except last 20minutes rest all Okay #onetimewatch
Telugu360 ‏@Telugu360
#JyoAchyuthananda First half is classy. Avasarala's one liners are hilarious. Good stuff!! #JyoAchyuthananda excellent first half, and a slow second half - especially last 30 min is a huge drag.
Gravity ‏@kelikism
#JyoAchyutananda is a slow poison Will be a sure shot hit Guest role by @NameisNani is superb in climax #jyoachyuthananda @ReginaCassandra proves she is the boss when it comes to performing to perfection #Superhit #JyoAchyuthananda
Nirvana Cinemas ‏@NirvanaCinemas
#JyoAchyuthananda Very well made movie. Sheer brilliance from Srinivas Avasarala. Loved it.
Entertainment News ‏@Enterta953800
#JyoAchyuthananda Decent 1 St half. Nice designed characters by Director. Songs gud. Waiting for 2nd half
Ritu Lagan ‏@RituLagan
Just watched #JyoAchyuthananda ...Superb movie..My rating would be 4/5...Do watch the movie in theaters @ReginaCassandra
Darling ‏@muneervarma
1st half comedy bane pelindhi #JyoAchyuthananda Emotional 2nd half... Overall Average..Rohit babu matram cannot aa size thaggakapothe chala kastam #JyoAchyuthananda
Sasi ‏@sasidharanne
#JyoAchyuthananda Good movie. Kudos to #Avasarala for well written script. Brother madhya conflict scenes baga rasadu. well picturized #JyoAchyuthananda Nararohith tennis sequence super. Last 30 mins koncham drag. One more small movie winner in this year. climax lo chinna suprise element vundi.. #JyoAchyuthananda
Ram ‏@ram7291
@googlesrikanth Hilarious first half Comedy chala baga workout ayindi secondhalf decent overall hit bomma #JyoAchyuthananda
#Dhruva #RC10 ‏@IamAlwaysArun
Clean and neat family entertainer "only for class audience " #JyoAchyuthananda btw @NameisNani will have 5 releases this year
Amrut Swaroop ‏@AmrutSwaroop
Just watched #JyoAchyuthananda. Perfect blend of humour and emotions. Enjoyed every bit. Thanks for the entertainment provided.
Troll Tollywood ‏@Troll_Tollywood
Good first half, Emotional second half. Nani's cameo Good film on a whole #JyoAchyuthananda
Roshan ‏@RoshanPalla
#JyoAchyuthananda Simple and beautiful kudos to avasarala srinivas. Casting,music everything was perfect a breeze of fresh air.