Former Commonwealth Games badminton champion Jwala Gutta has opened up on social media about "mental harassment" and selection biases that eventually forced her to quit the sport.
Gutta took to Twitter and spoke out against an unnamed person, pointing out how he had thrown her out of the national team despite her status as the then national champion.
The 35-year-old, who last played on the tour in January 2017, alleged that the person in question even harassed her partners in order to isolate her "in every manner".
The former world number six doubles player said what she had gone through fell under the ambit of the ongoing #MeToo movement, wherein women are speaking out against harassment, predominantly sexual.
"Maybe I should talk about the mental harassment I had to go through... #metoo," Gutta wrote on Twitter.
"Since 2006. since this person became the chief ..threw me out of national team in spite of me being a national champion.the latest was when I returned from RIO. am out of national team again.one of the reasons I stopped playing!! (sic)," she added.
"So when this person couldn't get through to me...he threatened my partners harassed them...made sure to isolate me in every manner...even after Rio...the one who I was gonna play mixed with was threatened..and I was just thrown out of the team.."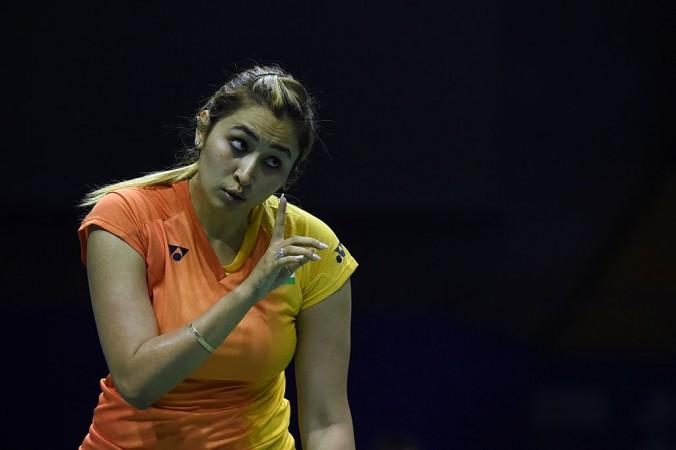 While most people, including a few celebrities, lauded Gutta for talking about the mental harassment, quite a few irked the star shuttler with their comments.
A Twitter user opined Gutta's post was a sign that #MeToo movement is getting "diluted" and "losing its bite". The user argued that mental harassment is subjective and that #MeToo shouldn't be used for such cases.
However, Gutta hit back, saying: "Am sorry #metoo doesn't mean I have to go through a sexual harassment...it's harassment of every kind...anyways I guess u have been lucky u never faced mental harassment for u to take others case so easy! (sic)."
The thick-skinned star was patient enough to respond to some bizarre comments on her timeline after her #MeToo post was widely shared.
A few even called Gutta's post a publicity stunt and that she was axed from the national team only because of her incompetence.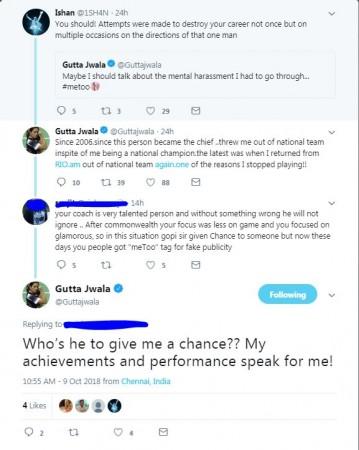 Jwala hasn't named anyone in her post but she had a much-publicised feud with national chief coach Pullela Gopichand. The Hyderabad-based shuttler has often spoken about how the top-brass of Indian badminton overlooked the progress of doubles players.