Justin Bieber sure knows how to keep the romance alive in a relationship. The "Sorry" singer has been publically serenading his wife Hailey Baldwin in the rain. It is being reported that Justin Bieber performed Marvin Gaye's rendition of "Sexual Healing" for Hailey Baldwin, outside the Montage Hotel in Beverly Hills much to her amusement.
"Justin is a natural born performer and a lot more outgoing than Hailey," a source exclusively tells HollywoodLife. "Because he loves her and deep down she is actually quite shy, he goes out of his way to do stuff to bring her out of her shell."
Apparently, the serenades have been an effort to get Hailey out of her shell. We have to say though, Hailey Baldwin is a successful model. We don't know if she really needs to get out of her shell, but we could be wrong.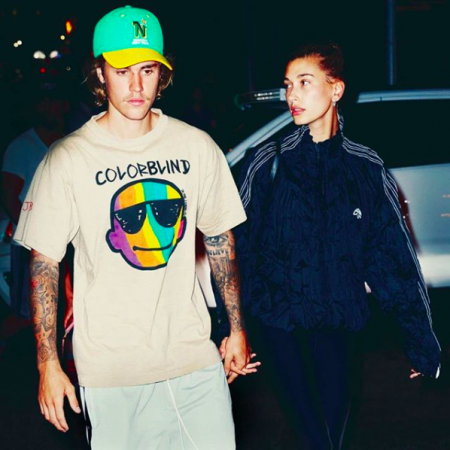 "Justin is extremely uninhibited and carefree and is at a place where he truly doesn't care what anyone thinks, so it's easy for him to do things that are unexpected, like singing and dancing in the street," the source added. This is just one of many instances where Justin Bieber has reportedly put on a public performance for Hailey Baldwin.
His previous performances reportedly were outside of Buckingham Palace where he whipped out his acoustic guitar and sang for Hailey in London and then there was the time the singer twirled his wife on a Beverly Hills street. It seems that the young couple is having fun figuring things out about wedded bliss. They clearly seem to still be in the honeymoon phase, which is saying something. We hope that Justin is able to bring Hailey out of her shell and make her feel more comfortable with herself.