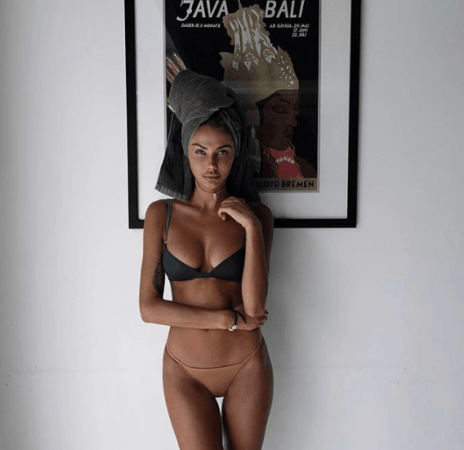 While Justin Bieber is busy mending his relationship with Selena Gomez, his former fling Sahara Ray is creating a storm on Instagram as she stripped down naked for a sizzling photoshoot.
Setting Instagram on fire, the model showed the Purpose hit-maker what he's missing out as she posted a raunchy nude photo on the social media platform.
Also Read: Bella Hadid sets temperatures rising by flashing ample cleavage in an open jacket [PHOTOS]
The 24-year-old is seen in her lavish Los Angeles home baring it all for the camera while her bikini-clad friend captures the stunning pose. Flaunting her derriere and curvaceous body, Ray is looking ravishing in the shots.
In the picture, the bikini designer is seen laid back on a black leather lounge nude. With just a towel wrapped around her head, Ray covers her modesty with her hands while curling up her leg for the shot.
Fellow model Meredith Hennessy who is seen bikini, clad in a black bathrobe in the mirror took the sultry photos for Ray. Returning Hennessy the favour, Ray captured a nude Hennessy and shared the latter's her picture on her Instagram account.
Hennessy stripped down naked to give followers an eyeful flaunting her bare back. Her toned derriere is on full display in the image. Unlike Ray, whose face was seen in the picture, Hennessy looked away from the camera, letting the focus remain on her sultry body.
Check out the photos here.
Taking to her own account, Hennessy revealed that she spent a majority of the day walking around naked. Sharing a selfie, she captioned: "Spent the majority of today walking around naked pretending to be Queen Amidala. Solid day."
Ray is not new to nudity on Instagram. Just last month, the diva shared a picture of herself in nothing but a thong holding up a stuffed bear to cover her modesty. The hot post was loved by fans as many called her "stunning," "sensual" and "gorgeous."