Bella Hadid is one gorgeous diva, and seizes every opportunity to flaunt it. The 21-year-old, who is known for her stunning Instagram stories and posts, recently shared a naughty clip to tease fans.
The Victoria's Secret model's new post comes days after she shared a picture from her shoot for Vogue Italia where she and model Taylor Hill stripped down naked for the camera.
Also Read: Wow! Bella Hadid strips down naked to flaunt assets in a saucy photoshoot
Setting the social media platform on fire, the Hadid sister donned a stunning leather jacket which she left unzipped.
Wearing absolutely nothing inside, Bella flashed ample assets to give fans an eyeful. The braless diva covered her modesty enough to not cause a wardrobe malfunction, but flaunted her bare breasts for the Instagram story.
Using a photo filter, the diva was seen sporting cute little purple ears while she pouted for the camera.
Letting her tresses fall off her shoulder, Bella was seen sporting a dark plum lipstick, a thin eyeliner and black nail polish.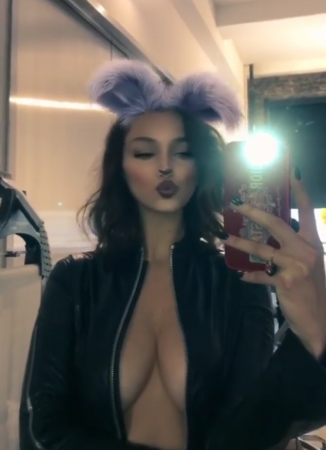 Before she shared the short clip, Bella shared a popular meme to inform fans that she was headed to her last photoshoot for the year. "Walking to my last job of 2017 with @peterphilipsmakeup & @diormakeup this morning [sic]," she captioned the image to inform fans.
While this might be her last job for the year, Bella has already begun 2018. The diva will be seen adorning the cover of Vogue Korea's January issue and she looks drop-dead gorgeous in it.
She shared a sneak-peek of the cover a couple of days ago.
In the image, Bella's silky locks cover one of her eyes while the other pierces into the camera. "First of 2018!!!" she shared with fans before thanking the crew involved in the shoot.
"I seriously can't wait to shoot with you again @ahnjooyoung_ You are so beyond! Trying all the new naturals @diormakeup by @peterphilipsmakeup Thank you @VogueKorea [sic]," she added.