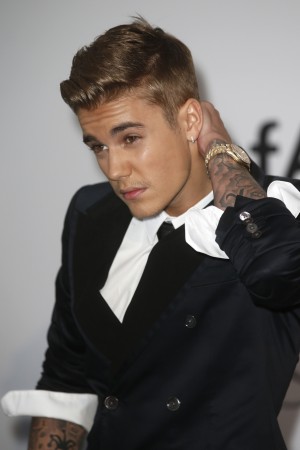 Notwithstanding his misguided conduct, "Baby" singer Justin Bieber has topped the Forbes' list of highest-earning celebrities under the age of 30 beating other fabulous names like Rihanna and Lady Gaga.
The 20-year-old's previous year's earnings reportedly amounted to about $80 million, The Los Angeles Times reports. The 12-month period considered here was between June 2013 and June 2014. Most of his earnings came from his sell-out "Believe" world tour. The sales of his award-winning albums and singles have added to his profit.
Now, one would wonder what he is doing with the money. Well! Apart from paying the bills, he has also invested millions of pounds in high-tech startup companies, The Mirror reports.
Of late, the Canadian singer-songwriter has made more headlines for his unruly behaviour than his music.
Bieber was asked to pay a $10,700 bill for leaving behind his pet monkey in Germany. The "All that matters" hitmaker was also accused by foreign authorities for illegally bringing the monkey, named Mally, into the country without the required paperwork or even vaccinations.
Eventually, he the monkey was put in a shelter for 17 months before being imported and all expenses had to be borne by Bieber.
He has had scuffles with the paparazzi and also insulted a host country's flag once. He was charged for careless driving and resisting arrest in Miami too. One of his most infamous illegal activities was egging a neighbour's home in California, for which he had to perform community service, attend anger management classes and also pay a $80,000 fine.
Britain's home-grown boyband "One Direction", average age of members 21 years, grabbed the second position in the Forbes' list.
The band members - Niall Horan, Zayn Malik, Liam Payne, Harry Styles and Louis Tomlinson – have reportedly earned a sweet $75 million .
The list also includes Taylor Swift, Miley Cyrus and other names from the music world. There is just one name from the world of cinema, Jennifer Lawrence.
Forbes' list of highest-earning entertainers under 30:
1. Justin Bieber, 20 - $80 million
2. One Direction, 21 (average age) - $75 million
3. Taylor Swift, 24 - $64 million
4. Bruno Mars, 29 - $60 million
5. Rihanna, 26 - $48 million
6. Miley Cyrus, 22 - $36 million
7. Jennifer Lawrence, 24 - $34 million
8. Lady Gaga, 28 - $33 million
9. Avicii, 25 - $28 million
10. Skrillex, 26 - $18 million