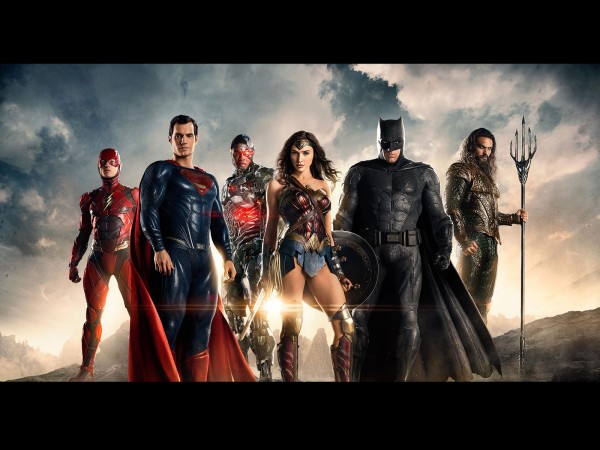 Kick-starting the world tour of Justice League, Ben Affleck, Henry Cavill, Gal Gadot, Jason Momoa, Ray Fisher and Ezra Miller were seen in China recently.
The actors not only launched the new Justice League trailer but also discussed the movie with the press and attendees.
Also Read: Justice League: Is THIS Zack Snyder's favourite cast member? [PHOTOS]

Commemorating the cast of the DCEU movie, the hosts presented a traditional, enlarged, scroll with the movie's superheroes sketched on it.
While Gadot, Fisher and Miller successfully found their place behind their respective characters, Affleck, Cavill and Momoa were misplaced.
This swap in placement led to a funny moment on Cavill's Instagram account. The actor, thanking China for hosting them, shared the picture of the cast holding the scroll and asked Momoa to return him his character.
His photo's caption read: "Thank you China for this incredible gift! Although Jason? I want my character back... #JusticeLeague #China. [sic]"
Does Momoa have a quirky comeback? While fans will have to wait and watch, the Aquaman actor shared an adorable "family photo" featuring the lead cast of Justice League.
The actor shared the touristy photo after posing outside the Temple of Heaven in Beijing to inform fans about their whereabouts. The picture honestly gives you all kind of feelings.
Momoa and the other cast members also shared pictures from their hotel rooms after they were reunited.
As part of the China tour, the cast released the Chinese trailer which had a few more elements than the one released at the New York Comic-Con a few weeks ago.
The new trailer gives fans a better looks at Steppenwolf, shows more footage connecting Wonder Woman's past and the film's villain, the chemistry shared by the superheroes and more spoilers.
However, the new trailer does not feature Superman.
Justice League releases on November 17.