Justice League releases this Friday and the producers have maintained a tight embargo on the reviews with the attempt to not spoil early bookings. It was only over the previous weekend that critics were allowed to release their first reactions and only recently that they published full reviews.
But fans are eager to know what Rotten Tomatoes score has been. The site's percentage plays crucial for any movie. The positive certification has impacted several movies – including Wonder Woman. Although the certification comes along with the reviews, in the case of Justice League the website is withholding the review until the morning the DCEU movie's release.
Also Read: Justice League reviews out: Wonder Woman, Aquaman rule critic verdicts
However, Comicbook.com reports that the Justice League's Rotten Tomatoes score has been leaked early and boy, it doesn't look good. The score was accidentally leaked online on social media site Flexist and Justice League's score stands at a disappointing 48 percent. The screenshot was shared on Reddit by a user.
Wonder Woman was certified "fresh" with 92 percent, becoming the highest rated superhero movie ever. As compared to that, Justice League is a huge disappointment. However, this could change as the film releases and more critics review the film.
Like Rotten Tomatoes disappointment wasn't enough, Metacritic score also stands at a sad 51/100. This score is the result of an aggregate of reviews. Comicbook.com notes that Richard Roeper's review stood at 88/100 and the New York Times review ranked at 40/100.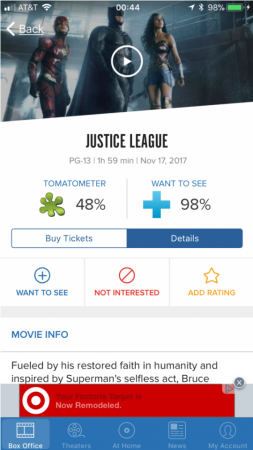 Delaying the Rotten Tomatoes reviews was a shocking move by the site and Warner Bros. Of course, the film's rating on the website could impact the box office collections majorly but it also raised eyebrows and speculations that the movie has a negative ranking on the site.
Fans will have to wait until the release to know where Justice League finally stands on the Rotten Tomatoes site. Justice League releases on November 17.