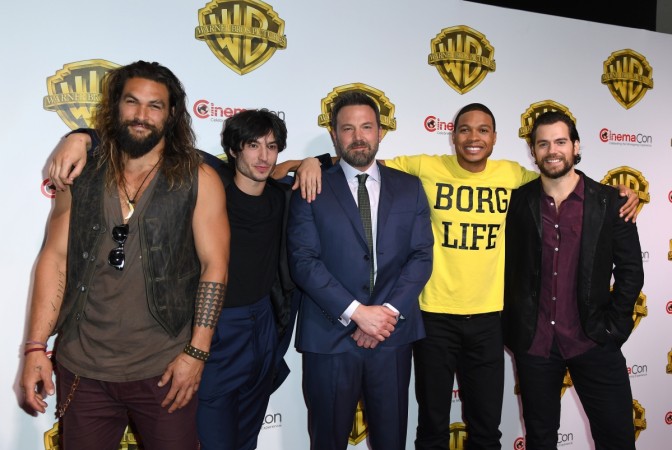 Justice League releases in a week's time, and promotions for the film are at an all-time high.
The core cast members — Batman Ben Affleck, Wonder Woman Gal Gadot, Superman Henry Cavill, The Flash Ezra Miller, Aquaman Jason Momoa and Cyborg Ray Fisher — are discussing their characters and teasing a few spoilers without giving too much away.
As part of the promotional activity, Momoa and Miller shared a hilarious behind-the-scene moment. The two actors told Cinema Blend in London that they stole souvenirs from the sets of Justice League.
Also Read: Justice League: Superman's mother Diane Lane 'surprised' that DCEU movie is 'great'
The duo confessed that they stole a few stuff from the Batcave. "I did steal stuff from the batcave, though. I'm going to come out and tell you guys that right now. So did Jason. So did Jason," Miller admitted. Momoa added: "I'm a natural born thief so, yeah."
So what did the duo steal? Miller revealed they stole "little things." Momoa went on to elaborate, "Little things. Mementos. Little... Like these little bullets with a little red cap on top of them."
"Bat bullets!" exclaimed Miller. "Bat bullets. I gave it to my son," declared Momoa.
Oh boy! Alfred is not going to be happy!
But come on, who wouldn't like to get their hands on some Bat stuff? Any star-struck geeky fan would attempt to take home at least one thing from Batman's cave if given a chance.
But don't think that this duo actually stole it and are admitting it now. Momoa and Miller clarified that the producers know about their "cave-lifting."
"I talked to our production design and set decorations department before I spilled this news. They know," Miller said. "Me too. Me too," chipped in Momoa, sounding almost childlike.
The actor admitted that he is a kid... correction, a "big kid." He shared a few more moments from behind the scenes of the DCEU movie and revealed that he was excited when he got a chance to tug Batman's cape on the sets.
"I'm a bit of a big kid, and I kind of geeked out just walking around Ben [Affleck] and pulling on his cape. It's just surreal that I'm even here playing this guy and around these guys. When you see us all up there, you'll feel the same way!" he revealed at the Justice League's London press conference that took place last week.
What was Affleck's reaction to the tugging? "I was like who the fuck keeps pulling on my cape?" he said.
We can't wait for the movie! Are you excited as well? Justice League releases on November 17.