Talk about technology breakthroughs and fast charging is one of the much-needed upgrades smartphones received this year. We've seen some incredibly fast smartphone charging technologies in play, but the game never gets old. With the launch of OnePlus 6T McLaren Edition, OnePlus launched faster-charging technology branded as Warp Charge 30, which succeeds the critically-acclaimed Fast Charge (formerly Dash Charge).
OnePlus was one of the early brands to adopt fast charging in its "flagship killer" smartphones, even before premium flagships came with it. Now, we see an uptick in the number of phones that offer fast charging support and OnePlus 6T McLaren Edition is one of the front-runners.
According to OnePlus, the Warp Charge 30 can rapidly recharge the phone and deliver a full day's use with just 20 minutes charge. While it is entirely dependent on the usage patterns of individuals that would make this claim legit, but OnePlus could be taking an average consumption into consideration.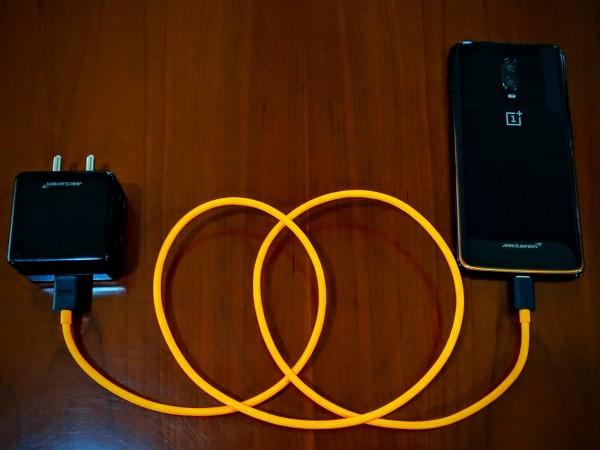 Since we're talking about fast charging here, the Warp Charge 30 had to be tested as a part of our ongoing review. OnePlus co-founder Carl Pei had recently shared a comparison chart (via XDA Developers) of Warp Charge 30 pitted against Dash Charge, Apple's 5W charging and USB-PD 45W charging. The graphical representation showed Warp Charge 30 leading the ranks in terms of fast charging from 5-20 percent.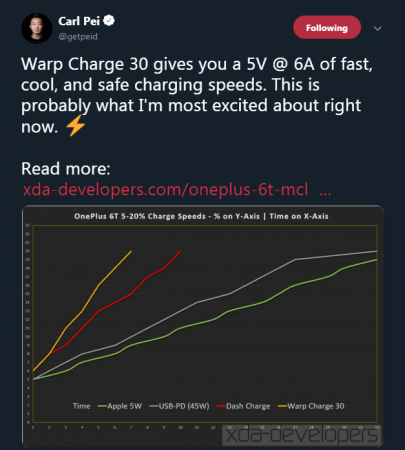 So we did some testing of our own to corroborate the existing claims about Warp Charge 30 in OnePlus 6T McLaren Edition and here's what we found:
In 5 minutes: Charges 10 percent
In 10 minutes: Charges 25 percent
In 20 minutes: Charges 50 percent
In 60 minutes: Reaches 100 percent from 10 percent
We noticed some slow charging after crossing 90 percent, which is natural but it doesn't take too much time comparing to Dash Charge. In fact, the initial charging stage was pretty quick and users can get sufficient charge in the first 20 minutes to get you through a busy day. Also, there was no overheating while the phone was being pushed to 100 percent charge.
By fully charging the OnePlus 6T McLaren Edition, I didn't need to plug the phone back to charging until after 17 hours (7 hours on-screen time) and even then there was 30 percent juice left in the phone. I've always admired OnePlus phones' battery and the Warp Charge 30 in the 6T McLaren Edition ups the ante.
But OnePlus is not leading the pack this time around. Oppo recently launched the R17 Pro in India, which comes with SuperVOOC flash charge, which has 50W output, unlike Warp's 30W. Huawei's SuperCharge (40W) has also delivered promising results during our review of Huawei Mate 20 Pro. It's unfair to say OnePlus Warp Charge 30 is the best, but it is definitely among the top-three.