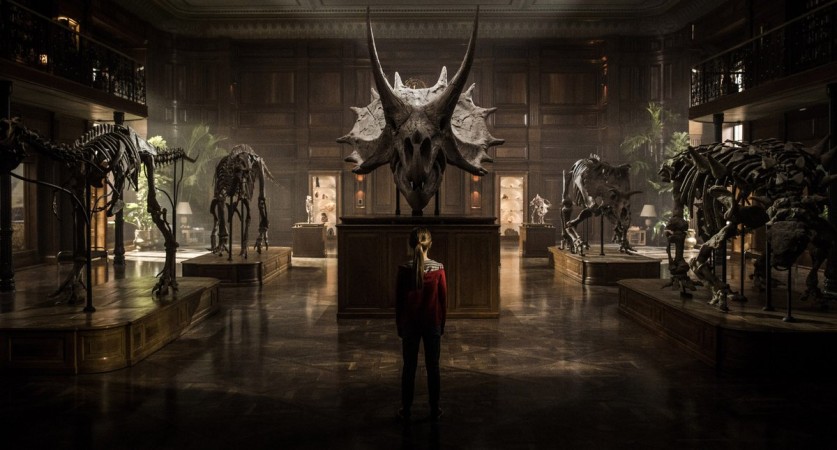 Jurassic World 2, the upcoming sequel of Jurassic Park film series titled Fallen Kingdom, seems to have revealed some crucial plot details about the movie through its marketing footage.
Some of the franchise fans have speculated that the upcoming science fiction adventure flick will probably feature flashback sequences between Owen Grady and Velociraptor Blue.
According to the franchise fans, the flashback sequence is being teased through the six-second-long clip shared online by creator Colin Trevorrow.
Also read Jurassic World 2: Will THIS actor reprise his role in Fallen Kingdom?
The short clip features cast member Chris Pratt, who portrays Owen Grady in the film, interacting with a baby Velociraptor in Jurassic Park.
Here's how a fan site called Jurassic Outpost describes the footage:
The footage appears to be taking place inside of the old Jurassic Park visitors center, with the mural out of focus in the backdrop – and features a baby Velociraptor who looks just like Blue. As Chris Pratt is wearing is Fallen Kingdom costume, it is not a flashback and cannot be showcasing Blue when she was a baby. This dinosaur is clearly the offspring of Velociraptor Blue, so it leads the question: what other Raptors were on Isla Nublar for her to breed with?
Meanwhile, the fan site also stated that the franchise will break the linear story conventions if the marketing footage is featuring a flashback sequence.
However, should we be wrong, and this is indeed Blue as a baby it begs the question of how flashbacks will be integrated. As Owen is wearing a arm harness similar to a falconers, it seems he was prepped and ready for this encounter. Could this be the first time he met Blue? If this is a flashback, it will be the first time a Jurassic film breaks the linear story conventions, and has exciting implications.
Watch the new marketing footage for Jurassic World: Fallen Kingdom below: