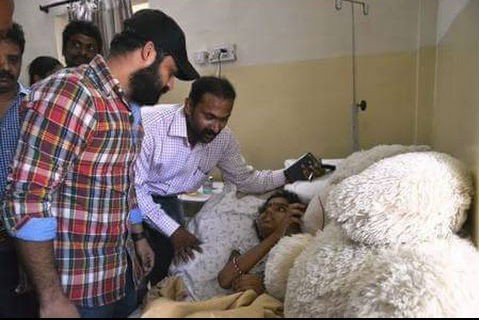 Junior NTR's 32nd birthday started with celebrations but ended on a sad note, as one of his ardent fans, Srinidhi, a cancer patient, passed away on 20 May.
The 10-year-old girl from Bandanpalli, Warangal, was diagnosed with fourth stage of blood cancer. The doctors had advised her parents to fulfil her last wish as she was expected to survive only for few days. She was recently admitted to Ramdev Rao Memorial hospital in Kukatpally for Palliative Care to provide her a dignified life in her last days.
The girl, who was not aware of short span of life, had wished to meet Junior NTR, her favourite actor. After learning about his fan's last wish, the young Tiger took some time off his busy schedule and rushed to the hospital to meet her on 12 May.
Junior NTR gifted Srinidhi a huge teddy bear and basket full of chocolates. He discussed about her school, favorite movies and songs. She reportedly spoke about his hit movie "Yamadonga". The actor, who was well aware of her health condition, had to struggle to control his emotions.
Later, Junior NTR told the media Srinidhi was an intelligent student and a top ranker. He wished her a speedy recovery, besides assuring financial support to her parents.
The actor was in grief to learn about her demise, that too, on his birthday.
Junior NTR, who had happily tweeted the photos of his son Abhay on 19 May, took to Twitter a day later to condole Srinidhi's death. The actor wrote: "Just came to know that srinidhi is no more with us.may her soul rest in peace.and may God give all the strength to the family."