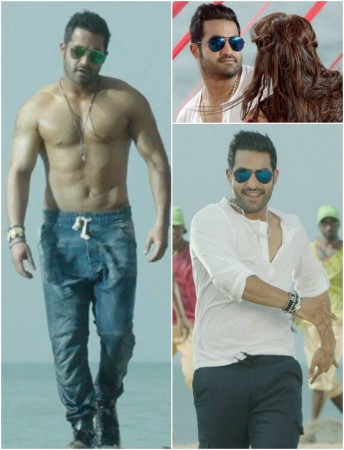 Telugu actors such as Mahesh Babu, Sunil and a few others have taken their shirts off for their movies. This time, it's the latest Tollywood star, Junior NTR, who has joined the bandwagon and gone shirtless to film a scene for his upcoming movie titled "Temper".
Three first-look photos of "Temper", which is being directed by Puri Jagannath, have been allegedly leaked on the internet.
In one of three pictures, Junior NTR is seen wearing only a pair of blue jeans. According to sources from the production team, he will appear shirtless in a song sequence of the film, which has been shot in Goa.
The first-look posters have already gone viral with fans of the young Tiger circulating these pictures on the social media. The film-goers are impressed with the new avatar of the actor. Many say this attempt is something new for the "Rabhasa" actor.
Here are some of the unique Twitter comments made by Junior's fans on his shirtless avatar.
Raju Indukuri
That was AWESOME AMAZING TARAK in #Temper !! Never Before Ever @tarak9999 !! @purijagan Sir
V Satya Srinivas
This is why we love u PURI sir...your passion on cinema is just AWESOME.Only one word #ThankYouPuri #Temper
CaRtiK S
#Temper raised with those leaked pics.. Eagerly waiting for official one's now..
AskBoxOffice
#Temper: First look. Feast for his fans. Without shirt, showing his body., walking near beach. Wait for it. @tarak9999
ProudPurian
Breaking Nows : @tarak9999 all Over the world are reported to suffer very high Fever with Max degree of TEMEP-erature !! #Temper @purijagan
Sachin Sagar
#Temper #NTR24 e pic chalu @tarak9999 can do anything dance action styling body transformation...inka chala unnayi..
Tarak Fanatic
#NTR @tarak9999_FC dedication hardwork - #Puri passion ki hats off.. #Temper Yrs tervata #NTR first look thoney impression kotii chala rojullu aiendii, nw 1st look thoney +ve started... WAIT will be over #Temper Sometimes failures will give positive results.. yup its true, becoz of those failures nw v hve seen new #Tarak .. #Temper After watching #Temper pics, #NTR25 meda expectations perigipotundiii.. Suku inka trendy ga chupistadu...
HaRi K
This is what we call a TAROCKing look.. @purijagan nuvu keka anthe #Temper
Pavankumar Dhruv
#Temper fever Na Timeline mottam nindipoindi wat i can see is only @tarak9999 He is evrywhere.
Sai Bhuvana Chandra
#youngtiger never before 1sttime 1stlook tho ne xpectations peaks ki velaye.never expected such a look frm #tarak waiting for dec14 #Temper