Vijay Sethupathi had proved through his earlier films that he can effortlessly enact the role of a don. While his performance in Vikram Vedha is still fresh in the minds of his fans, the Makkal Selvan is coming back as a gangster in his latest movie Junga.
In Vikram Vedha, Sethupathi portrayed a character of serious nature, but he will be seen as a fun-filled don in the latest flick. The trailer launched on Wednesday, June 13, has given away some glimpses of his role.
The video is packed with funny dialogues and action. Vijay Sethupathi impresses in both, dhoti-clad avatar and stylish gangster suit. The trailer does not give away anything about the storyline but indicates that the Tamil film tells the journey of a local rowdy to an international gangster.
Sethupathi mannerisms have garnered instant appreciation. Sayyeshaa looks beautiful, while Madonna Sebastian charms in her limited screen presence. Radha Ravi, Mottai Rajendran, Yogi Babu, Saranya Ponvannan and many others are seen in the short clip.
Siddharth Vipin's apt background score and Dudley's cinematography are other attractions of the trailer. Last but not the least, the way the cinematographer has captured the chase sequences should get a special mention.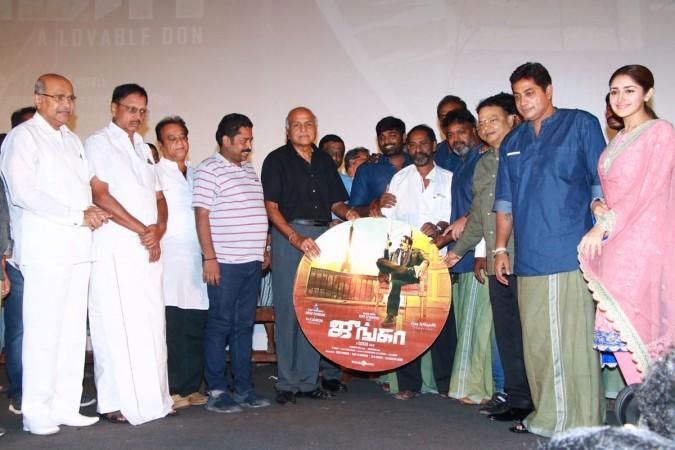 Meanwhile, the audio and the trailer have been formally launched on Wednesday in an event in Chennai. Four songs from the movie and the promo videos were played for the media and guests.
Gokul of Rowthiram fame has directed Junga, which is produced by Vijay Sethupathi himself.
#Junga Producer Arun Pandian - "In my 35 yrs of cinema experience, I've not seen a person like #VijaySethupathi. He assured me that he will stay the same. Though he plays a kanja don in the film, the film's budget is huge.. " #JungaAudioLaunch

— Kaushik LM (@LMKMovieManiac) June 13, 2018
.@sayyeshaa -"#VijaySethupathi is a very natural actor. I hope you'll like our pair" Dir Gokul says that they shot the Europe songs & scenes in sub-zero cold temperature, and that #Sayyeshaa braved the cold just to finish the scenes on time. He appreciates her commitment. #Junga pic.twitter.com/sk5UfrD2t3 — Kaushik LM (@LMKMovieManiac) June 13, 2018
#SaranyaPonvannan fondly recalls Thenmerku Paruvakatru days from 8 yrs back when #VijaySethupathi used to ask her if a person like him would succeed in cinema. Genuine feel! She says she's thrilled to see his huge growth in the field & get her salary from producer VJS now. #Junga pic.twitter.com/zaUsxxfbJh

— Kaushik LM (@LMKMovieManiac) June 13, 2018
#JungaAudioLaunch - All speakers appreciating #MakkalSelvan #VijaySethupathi & @sayyeshaa.. VJS says - "@iYogiBabu's comedy timing is his big plus. He's very confident about himself. He had fans overseas too and ppl asked for his pics, when we were shooting there" pic.twitter.com/pdrJTDSwnU — Kaushik LM (@LMKMovieManiac) June 13, 2018
#Junga audio launched. A well planned and organized event. #JungaAudioLaunch #JungaAudioFromToday pic.twitter.com/RpwtJWuuCa

— Haricharan Pudipeddi (@pudiharicharan) June 13, 2018