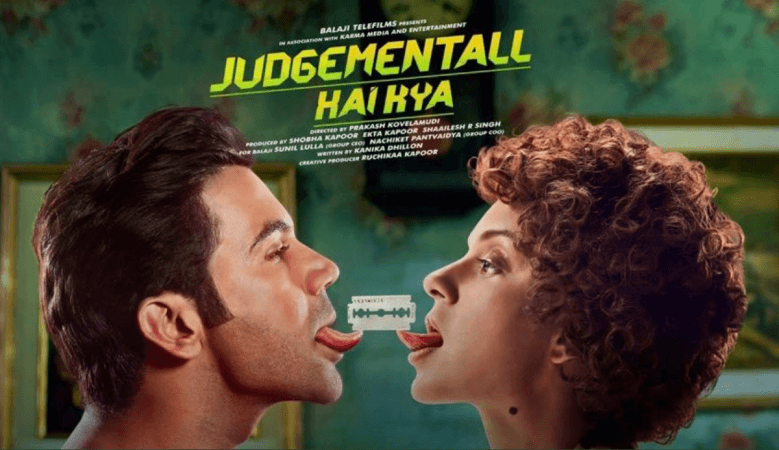 Reviews of Judgemental Hai Kya, starring Kangana Ranaut and Rajkummar Rao, are out, and the movie is getting positive response from the critics.
While the film released on Friday, some critics have already watched Judgemental Hai Kya, and have come up with their verdict. The psychological comic thriller has been getting rave reviews.
It is being said that although Rajkummar is as usual excellent in the film, it is Kangana who steals the show. The actress apparently has delivered another stellar performance as she is being widely appreciated.
From acting to direction and screenplay, everything is being applauded by the critics. It is being said that the movie keeps the element of suspense alive all throughout the film. With dark humour, interesting screenplay, stellar performance and a strong message, Judgemental Hai Kya appears to be a must watch film.
Here are critics' review and rating for Judgemental Hai Kya:
Times of India: Kangana Ranaut is brilliant as Bobby as she seamlessly gets under the skin of her character, nailing the quirks and nuances. Even her styling makes a statement without going overboard. Rajkummar Rao fits into his slightly macho, edgy persona like a glove. We haven't seen him in a role like this before and he pulls it off fantastically. Jimmy Sheirgill impresses as he breaks out of the one note characters he has been playing lately. Amrita Puri too holds her own very well. Judgementall Hai Kya keeps the element of suspense alive all the way till the end, as it pushes the envelope as a dark, psychological whodunit, with a social message weaved in that can't be ignored. (3.5*/5*)
Spotboye: How can two actors complement each other so well! They almost take alternate turns to look crazy, vulnerable, innocent and menacing in their respective scenes, which in turns keeps you at the edge of your seat. And just when you think that the second half is getting a tad linear, Kangana and Raj deliver a bolt from the blue that might make you fall off your chair. Amyra Dastur and Amrita Puri come out with flying colours. See this Ekta Kapoor film, directed by Prakash Kovelamudi. Worth your ticket. (4*/5*)
Pinkvilla: One of the key highlights of the film is the music and an ode to the aberrant character of the protagonist. Kis Raste Hain Jana beautifully weaves into the story. It captures Kangana's attempt at solving a conundrum: choosing her beliefs or the world's perception about her. Judgementall Hai Kya might not be the perfect thriller-comedy, but it's surely an attempt to try something different without being judgemental about the audience's taste. (3*/5*)
Hindustan Times: Watch this film. As evidenced by a man Bobby sees carrying homilies on placards on a street corner, Judgementall Hai Kya knows the difference between accepting and determining something. It is a film about malicious misdirection, and the validity of our narratives — especially those labelled incorrect. It's okay to jump at a cockroach even if you're the only one who sees it. From the right angle, a bug is a feature. (4*/5*)
India Today: Prakash Kovelamudi deserves applause for pushing the envelope with a quirky thriller that goes beyond the basic realms of a whodunnit, and makes people think and absorb. It treads into a zone Bollywood rarely ventures into. Leave your judgements at home and watch this film. (3.5*/5*)
Desi Martini: All in all, a must-watch, because a film of this sort is not made everyday especially in Bollywood. (4.5*/5*)