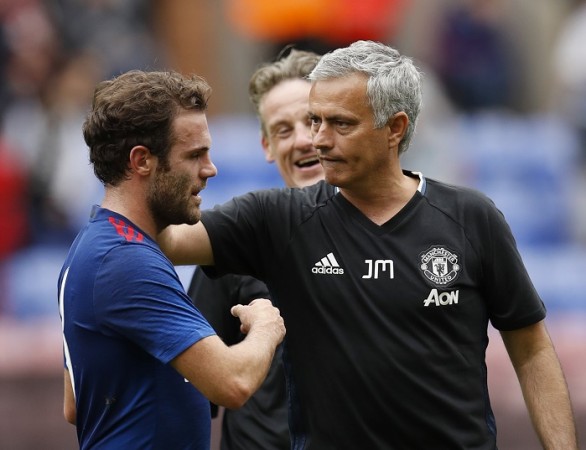 It is all happening at Manchester United since Jose Mourinho has taken charge of the club. Rumours were making the rounds that Juan Mata will be sold since he and Mourinho do not share good terms.
But Mourinho has put an end to all speculations and stated that the club needs Mata, and that the player too does not want to leave the club. So basically, Mata is not going anywhere in this summer transfer window.
Rumours were also rife that Barcelona were monitoring the Spanish play-maker for quite some time. But Mata, who is a part of the Manchester United squad for the preseason tour, wants to continue playing with the Red Devils in the upcoming season as well.
Mata came in handy towards the end of the previous season but unfortunately, he was not in the plans of Vicente Del Bosque for Euro 2016, and was thus left out of the national squad. But he is back training with United and seemed to have earned the respect of his new boss at the Old Trafford.
"I think since the first day everything is clear between us. There is space for him. He's a talented player and I don't promise places to anyone," Mourinho was quoted as saying by Daily Mail.
"I promise respect and I like him, so if he wants to stay – and I think he wants to – until this moment I don't have one little sign that he wanted to leave. So I think he wants to stay and, yes, there is space for him and, yes, I think he can be useful to the club."
Mata had won the 'Chelsea Player of the Season' award consecutively at Stamford Bridge when he was playing under Mourinho there. But the Spaniard fell out of favour and had asked for a transfer and joined Manchester United.
Mourinho further added that neither he nor the club wanted to sell Mata then. It was the player who had asked for the transfer and so it happened.
"I sold because he asked for that. Nobody in my previous club wanted to sell or push him. No, it was his decision. He was not the first option, but he was playing every game. I never let Juan Mata out of my selection of the 18, but he was on the bench a few times," Mourinho added.
"We had a proposal from a big club like Man United. We thought in the club that the proposal was very much acceptable, that it was very good proposal for that period, three years ago."
"But he wanted to leave and my philosophy is I don't want players that want to leave. I want players that want to come and want to stay. So we sold Juan to Man United."
Looking at Mourinho's plans, it is clear that he is definitely considering Mata's presence in the squad for the upcoming season.