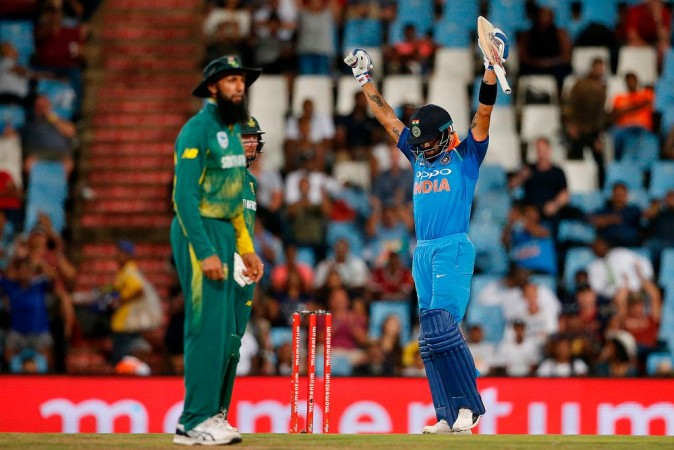 Virat Kohli has made life difficult for journalists. The Indian skipper has been scoring runs at an unprecedented consistency that newsmen are running out of superlatives to describe his knocks.
Kohli hit his 35th ODI ton on Friday, February 16, to help India complete a 5-1 win over South Africa in Centurion. The 129-run knock was his third century of the series and fourth on the tour. Notably, he also became the first man to score 500 runs in a bilateral series, breaking the record held by teammate Rohit Sharma.
Nothing unusual. Just no 35. A routine day, really.

— Harsha Bhogle (@bhogleharsha) February 16, 2018
After conceding that he "runs out of words sometimes", a journalist finally decided to approach Kohli himself to help him describe the latest century during the post-match press conference in Centurion on Saturday.
Here's how Kohli reacted to the question.
Journalist: "You do this so often that we run out of words sometimes. So, how would you analyse the knock that you played?"
Kohli: "Look as I said, I'm not going to give in to this. I know for a fact that 90 percent of the people didn't give us a chance after two Tests. I was sitting in the same room giving a press conference. So we understand where we've come from. I'm not going to live in a dreamland right now and accept all the praise and sit here and feel good about this because it doesn't matter to me. Honestly, it doesn't."
"It didn't matter when we were 2-0 down, it doesn't matter when we're 5-1 up. What matters is the respect in the change room, what matters is the what the management thinks about me, what I think about the players and they think about me," he added.
"I know the headlines change day in and day out. Tomorrow, I play a bad shot and get out, everyone will conveniently do what they want to do.
"As I said I don't want any tags, I don't want any headlines, I just go out there and do my job, it is up to the people to write what they write, I don't want to be called anything, it's my job, I am supposed to do what I am doing and I am not doing anyone a favour."
Ravi Shastri offers to help journalist
Meanwhile, head coach Ravi Shastri, who also attended the press conference on Friday, suggested the journalist to buy "the latest edition of an Oxford dictionary" and look for adjectives to describe Kohli's current form.
Kohli finished the ODI series with 558 runs from six matches, including three centuries at a staggering average of 186.
The skipper also said he did not want to be drawn into the debate over whether the series win in South Africa is one of India's biggest victories. Notably, the Delhi batsman became the first Indian captain and second from Asia after Misbah-ul-Haq to win a series in India to win a bilateral ODI series in the "Rainbow Nation".
Kohli will now lead India in a three-match T20I series against South Africa, starting Sunday (February 18) in Johannesburg.