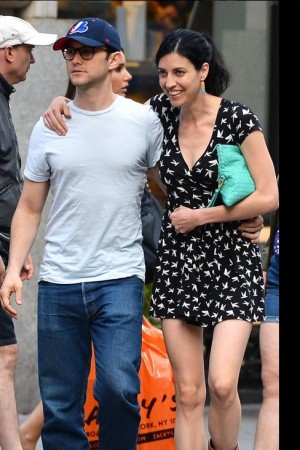 Joseph Gordon-Levitt, the "500 Days of Summer" actor, is now a married man.
He reportedly married his girlfriend Tasha McCauley on 20 December in a private ceremony at their house, People Magazine confirms.
The wedding was a hush-hush matter and was kept under-wraps for all these days. No other details of the wedding are available because Joseph is a private man. He even refused to discuss his relationship in public.
In a September interview with radio jockey Howard Stern, Joseph confessed to having a girlfriend and added that she wasn't in the show business but refused to divulge any more.
I have a girlfriend but I tend not to really like to talk about it in public," the 32-year-old actor said. Joseph however admitted that the two met via "mutual friends."
When urged about why he does not like talking about his relationship in public, Joseph said:
"I get up in movies and I play other people, so when the audience is watching me in movies, I don't want them thinking about me and who I'm dating, and blah blah blah. I want them to see the character, the story that I'm telling."
Joseph also added that his girlfriend doesn't like the showbiz limelight and the "scrutiny" that comes with it.
"The girl that I'm with, she really doesn't want to be a part of it. You can imagine not wanting to have that kind of scrutiny."
Joseph also opened up about his views on marriage, relationships and commitment.
"I think that I could partner up with somebody -- I don't know who that somebody is -- I could partner up with a woman and commit to we're going to raise a family and that's a project we're going to commit to for 20-something years. I like to not be too committed to any one future that's really far away, necessarily, unless there's a reason, which is why I'm saying if you're gonna raise a family...I can make that commitment."
So who is this girl who made that kind of commitment to Joseph?
According to People Magazine, Tasha McCauley is the CEO and founder of Fellow Robots, a robotics company based in Silicon Valley, California.
A few more things to know about Joseph's new bride:
She is proficient in three languages – English, Arabic and Spanish.
She got her masters degree from USC.
She used to teach "students about robotics, artificial intelligence, and other rapidly accelerating technologies" at Singularity University before getting her masters.