Manchester United manager Jose Mourinho did not mince his words when he expressed his disappointment with media coverage of his club when compared to the ones who finished below them on the league table last season.
Mourinho, who addressed a press conference on the eve of United's Premier League 2018/19 opener against Leicester City, appeared to take a dig at Liverpool and Tottenham Hotspur.
United were projected as bad as a relegated side at the end of last season while the team's that "won nothing and finished below" the Red Devils were being projected as "serial winners", according to the Portuguese tactician.
"My view is that, first of all, it is difficult for me to believe we finished second because when I listen, when I read – not much but sometimes I do – you [the media] are capable of making people that finish second look like they were relegated, and people who win nothing, finish below us, you make them look like serial winners," Mourinho said.
"It is difficult for me to understand we finish second. I keep saying that I won eight championships and three Premier Leagues but I keep feeling that second last season was one of my biggest achievements in the game."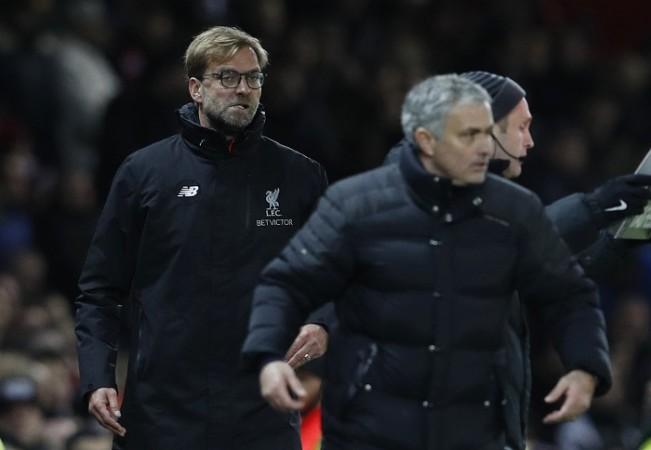 Mourinho's men finished second behind Manchester City, who left the chasing pack behind by 19 points. Jurgen Klopp's Liverpool and Mauricio Pochettino's Tottenham finished third and fourth, respectively.
However, both Liverpool and Spurs, especially the Merseyside appeared more flamboyant as they made full use of Mohammed Salah's imperious form and scored the second-most number of goals, 16 lesser than City.
This is not the first time Mourinho has taken a jibe at United's north-west rivals. He had earlier made a cheeky comment on Liverpool's transfer spending, saying the Reds had spent "on everything and everybody" during the summer window, which closes later today.
Have to stop thinking about the market: Mourinho
Mourinho also hinted that United may not be able to reinforce their squad before the transfer window closes at 5 pm BST.
"I'm not confident and the market closes today so it is time, at least for me, to stop thinking about the market because the market will be closed, so I will have to focus on the players I have," Mourinho added.
United managed to complete only three deals during the summer window as they bought Brazilian midfielder Fred, Portuguese full-back Diogo Dalot and third-choice goalkeeper Lee Grant.
Mourinho was keen on adding a central-defender to the squad but it seems the United boss has to be content with whatever resources he has.
He reiterated that the upcoming season may not be an easy one and also expressed unhappiness at not having a full-strength squad during the pre-season.
"In Championship Manager, you can just press a button. In football you need time to work and players on the pitch to work and we didn't have that until now," he said.
"I was told that during pre-season it looked like I was saying something absolutely out of order, something crazy. I repeat: pre-season difficult when you don't have your players to work, as simple as that."