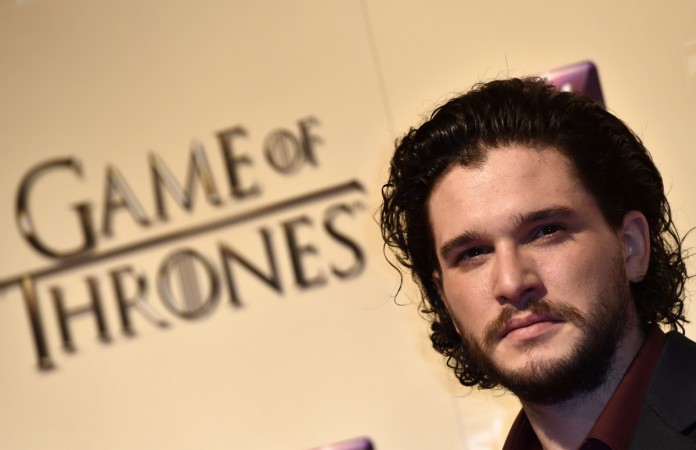 Defending the wall probably got a bit too tiring for the King in the North as Kit Harrington – the face of Jon Snow from the popular HBO series Game of Thrones, ended up at a bar in NYC, where he was kicked out for getting too drunk and disorderly over a game of pool.
The 31-year-old British heartthrob got involved in a bar-fight, to put it simply and ended up arguing with bar bouncers before getting bounced out. As TMZ reported, he was asked earlier to leave, and he did abide, only to return and finally get booted out.
Also read: Game of Thrones: This can be the best but most heartbreaking news for every Jon Snow fan
In a viral video that has surfaced online, Kit can be seen jostling around over a dispute around the pool table. Shot on Friday night in Barfly – a cosy dive bar in the Gramercy Park neighbourhood, the content of the dispute is still unclear.
The bar has only one pool table, which is squeezed within those cramped quarters and perhaps the King in the North got a little too impatient waiting for his turn.
According to eyewitnesses, Kit had come back inside for a second round only to be physically dragged outside into the cold. At one point in the video, he can be seen trying to locate his coat and belongings in a manner that was disruptive to the crowd around him.
His otherwise impeccable charm didn't seem to work on one particular lady, who sternly tells him "Say excuse me" as he is seen trying to jostle past her. Representatives for Harrington haven't responded for comment to any media outlet.
As for the actor himself, not so long ago, he was spotted selling Christmas trees in the spirit of the holiday cheer. Currently engaged to his Game of thrones co-star Rose Leslie, Kit also happens to be one of the highest paid actors on television.
The show that jumped it all for him is all set to return for its much hyped and long awaited eighth and final season in 2019.
Other than the highly successful franchise based on George R R Martin's 'A Song of Ice and Fire' books, Kit is currently starring in HBO's three-episode miniseries Gunpowder, for which he is also the co-executive producer.