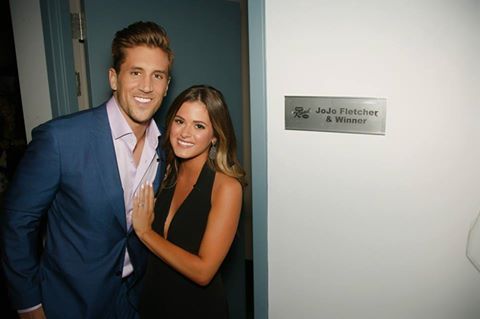 JoJo Fletcher found love with Jordan Rodgers in the Season 12 finale of ABC's dating reality show The Bachelorette, but the duo is no closer to planning their wedding than they were when the show ended. One of the hurdles they are facing is where and when to get hitched.
"We've been talking about it," the former Bachelorette told ET. "We don't even know the first steps of what to do. Like, where are we going to do it? It's where and when. We don't know," Fletcher said.
But one thing they are sure of is that they wouldn't mind sharing their big day with their fans. "I think it's definitely a question," Fletcher revealed, adding that right now they are focusing on being with each other and enjoying their time together.
"You know, it's funny, we got to be together on the show, but we haven't really dated. So this has been such a fun time to move into our first home together, and to go on dates," she said.
Fletcher and Rodgers' relationship has not been a smooth ride. Infidelity rumours have been plaguing them ever since the show ended, and even while the show was airing a good number of people had come forward claiming that Rodgers wasn't on the show for the right reasons. Reportedly, all Rodgers was looking for was an opportunity to stay in the limelight, but he has since proved haters wrong.
Fletcher and Rodgers will probably get married in early 2017, and it will most likely be an outdoor event with a rustic feel. It remains to be seen if Rodgers' brother Aaron Rodgers will make it to the wedding, as the brothers don't share a comfortable relationship.