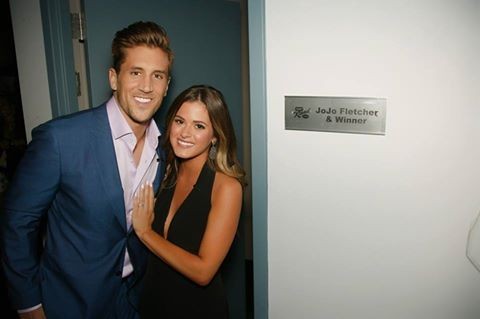 Rumours swirling around indicate that "The Bachelorette" stars JoJo Fletcher and Jordan Rodgers, who got engaged in Season 12 of the dating reality show, have called off their wedding. But there seems to be no truth to these rumours as Fletcher recently revealed that all was well between the two.
"Obviously not," Rodgers told TMZ when asked about the split rumours. "I don't know where those rumours are coming from," added Fletcher. "Everything's amazing. Same old same old," she confirmed.
The duo also added that they were busy planning their wedding, but it looks like they are yet to decide on a date. "We're trying to figure out where it's going to be first," said Rodgers, and Fletcher added that the guest list could include a few Bachelor Nation alumni. "Becca's [Tilley] one of my good friends, she'll probably be in the wedding," said Fletcher.
However, it remains to be seen if Jordan's brother Aaron and his girlfriend, actress Olivia Munn, will be a part of the wedding party. Aaron and Jordan are no longer on talking terms, supposedly because Jordan cheated on his then girlfriend, Brittany Farrar, who is a close friend of Munn's.
"Riding the bench doesn't get in the way of a relationship, but cheating does. #yourpitchisntperfect@jrodgers11 #alwayswantedtobefamous #dreamscometrue #tuneinnextweekformoreBS@bacheloretteabc," Farrar wrote on Instagram shortly after Season 12 of "The Bachelorette" premiered.
Neither Jordan nor his brother has opened up about the issues that caused their estrangement, but in an interview post, "The Bachelorette" Season 12 finale, Jordan revealed that he would definitely want his brother to be at their wedding ceremony.
"There's no scenario in which I wouldn't want my entire family at a wedding, so absolutely, that's something all of our family wants and hopes for at some point," said Jordan, according to People.