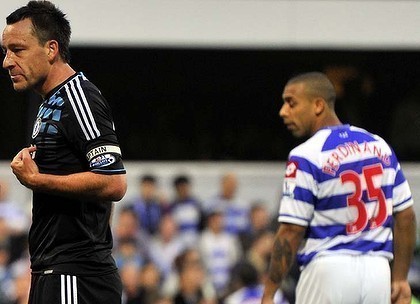 Chelsea captain John Terry was found guilty of racially abusing Queens Park Rangers' (QPR) Anton Ferdinand by an Independent Regulatory Commission of the Football Association (FA) on Thursday and has been slapped with a four-match ban and a fine of £220,000.
The 31-year-old defender, who capped 78 times for England and appeared at two World Cup events, appeared before the FA's independent panel for four consecutive days from Sept 24 to 27 in connection with the racial abuse charge against him.
Here is the ruling of the Independent Regulatory Commission according to FA official site.
Mr Terry be suspended from all domestic club football until such time as Chelsea's First Team have completed four competitive matches
Fined the sum of £220,000
Meanwhile, John Terry can appeal against the decision of the Independent Regulatory Commission to an appeal board within 14 days after receiving written reasons from the panel for the decision.
It is reported that the former England captain will consider appealing against the four-match ban after consulting with legal experts.
He was cleared of the charges by Westminster Magistrates' Court in July but the FA disciplinary wing charged the footballer for his misconduct.
It was speculated earlier that Terry could face a four-match ban as he is accused of the racist remarks only once, while Liverpool's Luis Suarez, who faced an eight-month ban, racially abused Patrice Evra several times.
Following the decision of the FA to go ahead with the racial abuse charge against him, John Terry announced his retirement from international football on Sunday, just a day ahead of his disciplinary hearing from the FA's Independent Regulatory Commission. He said that the FA has made his position with the national team untenable.
Terry was earlier stripped off the England captaincy because of the allegation. He won't represent his country in the 2014 World Cup in Brazil but will continue to play for Chelsea FC.