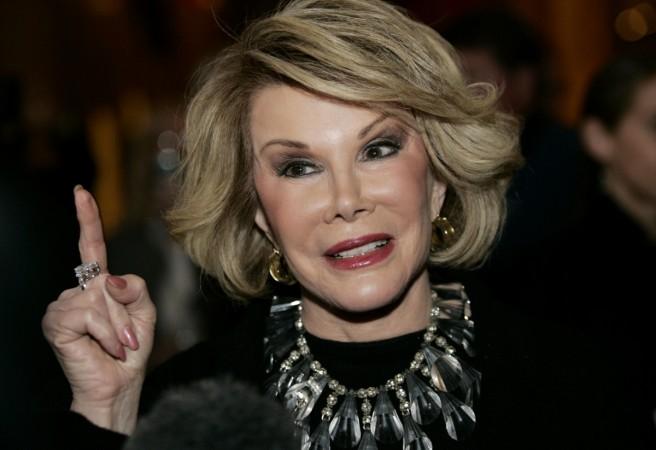 Joan Rivers, actress and Comedienne , is the latest Hollywood star to fall victim to the celebrity death hoax.
Rivers suffered a cardiac arrest on Thursday but the 81-year-old has recovered well and is now "resting comfortably" in the hospital, her daughter Melissa revealed in a statement.
"I want to thank everyone for the overwhelming love and support for my mother," Melissa told US Weekly Magazine. "She is resting comfortably and is with our family. We ask that you continue to keep her in your thoughts and prayers."
The death hoaxes started, after TMZ reported that Rivers stopped breathing during a surgery on her vocal chords. The gossip website further stated that the Comedienne 's heart also stopped.
Rivers was undergoing surgery when she stopped breathing and suffered a cardiac arrest. She was immediately taken to the Mount Sinai Hospital in New York.
TMZ quoted a source saying that someone called 911 at 9:39 AM ET and said: "We have somebody in either cardiac or respiratory arrest."
However, the actress is in stable condition now, according to her family.
Surprisingly, a day before her the cardiac arrest scare, Rivers joked about her death during a performance at Laurie Beechman Theatre.
"She did a joke onstage, she goes, 'I'm 81 - I could go at any moment,'" Shade Rupe, 45, who attended the show, told New York Daily News.
Rivers suffered the cardiac arrest on Thursday. Several reports also say that she has been placed in a medically induced coma, Daily News reported.
Soon after the news of Rivers being hospitalised came out, rumours started circulating on Facebook and Twitter that the actress died. And several people, who believed it, posted condolence messages on social media, expressing their grief.
Here are a few tweets by people who believed that Rivers passed away.
"A CNN journalist is reporting that #JoanRivers has died and an official announcement will be made within the hour; I hope it's not true."
"remember those evil comments you made about Palestinians,well.... YOU DIED THAT DAY JOAN #JoanRivers"
"Can't believe Joan Rivers died! Who's going to do fashion police??! #JoanRivers."
"So sad to hear #JoanRivers died! Apparently the defibrillator melted her plastics while giving a shock #RIPJoanRivers."
"#RIPJoanRivers your body will be a great fossil fuel.."
"She told the truth about the president, now she's dead #RIPJoanRivers #illuminati"
"The world lost an angel today. RIP queen Joan Rivers. Gone but never forgotten. #RIPJoanRivers"