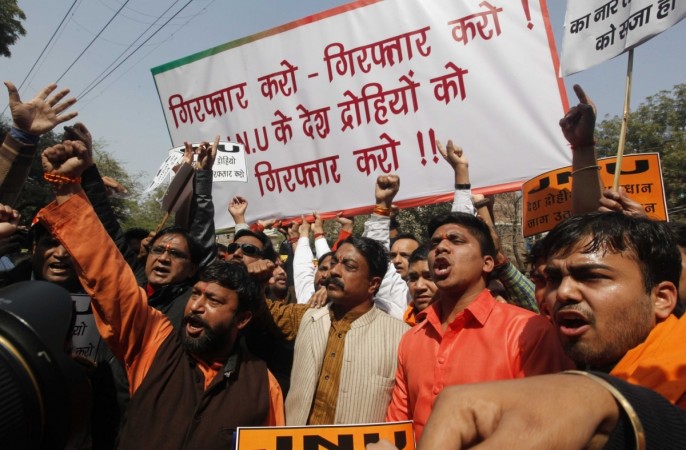 As many as 93 international academicians, including Noam Chomsky, Orhan Pahmuk and Judith Butler, signed a statement on Wednesday condemning the Indian government for using sedition laws to charge Jawaharlal Nehru University Student Union (JNUSU) president Kanhaiya Kumar for an event held on Feb. 9, where anti-India slogans were allegedly raised.
Kumar has been presented in court Wednesday for hearing on the sedition charge. He was remanded into police custody for three days by the court.
Apart from the arrest of Kumar last week, the Delhi Police also carried out raids on Wednesday for JNU students who were believed to be present at the event.
The academicians accused the Narendra Modi government of creating a "culture of authoritarian menace" and called on Indians to mobilise against it.
"Since there is no evidence to establish these charges, we can only conclude that this arrest is further evidence of the present government's deeply authoritarian nature, intolerant of any dissent, setting aside India's longstanding commitment to toleration and plurality of opinion, replicating the dark times of an oppressive colonial period and briefly of the Emergency in the mid-1970s," the statement read.
Calling the act as "shameful," the group of academicians also pulled up the government for using laws formulated by "colonial rulers."
The statement was released after international media covered the controversial issue. Among those who backed the statement were Indian academicians including MV Ramana, a phycisist in Princeton University; Sanat Kumar, professor of chemical engineering at Columbia University; and Partha Chatterjee, professor of Anthropology, Columbia University.
The New York Times said in a report that protests condemning violence by "Hindu nationalists" were staged by various groups like students, academicians and media in New Delhi on Tuesday. The newspaper also termed the Centre's actions as "nationalist violence," while the BBC called the protests as a "student revolt." The Washington Post, on the other hand, reported the incident as "campus activism" that "got out of hand." The Australian also echoed the Washington Post calling the debate as "campus protest."
"We take a stand of heartfelt solidarity with the students and faculty of Jawaharlal Nehru University in their efforts to resist these developments on its campus and, in the name of the liberties that India and Indian universities until recently could take for granted, we not only condemn the culture of authoritarian menace that the present government in India has generated, but urge all those genuinely concerned about the future of India and Indian universities to protest in wide mobilisation against it," the statement said.