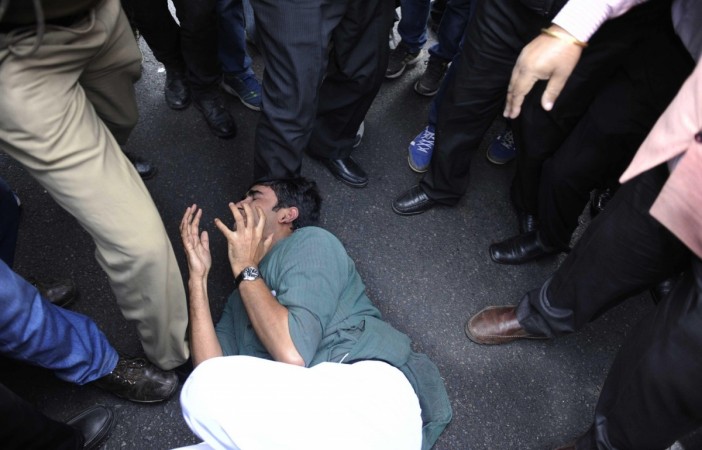 The Delhi Police carried out raids in Delhi, Uttar Pradesh, West Bengal, Jammu and Kashmir and Maharashtra on Wednesday to search for the Jawaharlal Nehru University (JNU) students who had raised anti-India slogans during an event on Feb. 9 on the death anniversary of Parliament attack convict Afzal Guru.
The Delhi Police's status report says 18 students, including JNU Students' Union (JNUSU) president Kanhaiya Kumar, who were "present" at the event, have been identified. The students reportedly staged a march from Sabarmati dhaba to Ganga dhaba and dispersed peacefully in an hour. The police alerted the JNU authorities about the "possible repercussions" of the event on Feb. 9 after seeing posters in the campus. Some students carried out "unwanted activity" like chanting slogans against India and for the freedom of Jammu and Kashmir at the occasion, which was supposed to be a cultural event, reported Zee News.
Meanwhile, 14 Delhi cops are being transferred as the controversy in JNU rages on, NDTV reported. The Delhi Police have been accused of being a "mute spectator to this brazen display of brute force" in a petition by the students while people were beaten outside a Delhi court on Monday.
In another development, students in West Bengal's Jadavpur University and Uttar Pradesh's Aligarh Muslim University (AMU) staged protests in solidarity with the students of JNU. However, the AMU students condemned the anti-India sloganeering while Jadavpur University raised slogans in support of Afzal Guru. The Centre on Wednesday sought a report regarding the pro-Afzal Guru sloganeering at Jadavpur from the West Bengal government.
Arrested JNUSU president Kanhaiya Kumar is set to be presented in front of the court in relation to the sedition charges against him on Wednesday.
The Delhi High Court on Tuesday dismissed a PIL seeking a National Investigation Agency probe into the case.
"Whether it (the allegedly seditious behaviour) was youthful error or international conspiracy is still being investigated," NDTV quoted the Centre's representative as telling the Delhi High Court on Tuesday.
Faculty and students of JNU as well as reporters were beaten, reportedly by lawyers and people dressed in lawyers' robes, outside the Patiala House Court on Monday. They had gathered there for the hearing of Kumar's case.
International support for the students of JNU has poured in, NDTV reports, as renowned academicians, including Noam Chomsky and Orhan Pahmuk, who signed a statement that read: "We have learnt of the shameful act of the Indian government which, invoking sedition laws formulated by India's colonial rulers, ordered the police to enter the Jawaharlal Nehru University campus and unlawfully arrest a student leader, Mr. Kanhaiya Kumar, on charges of inciting violence --without any proof whatever of such wrongdoing on his part. (sic)"