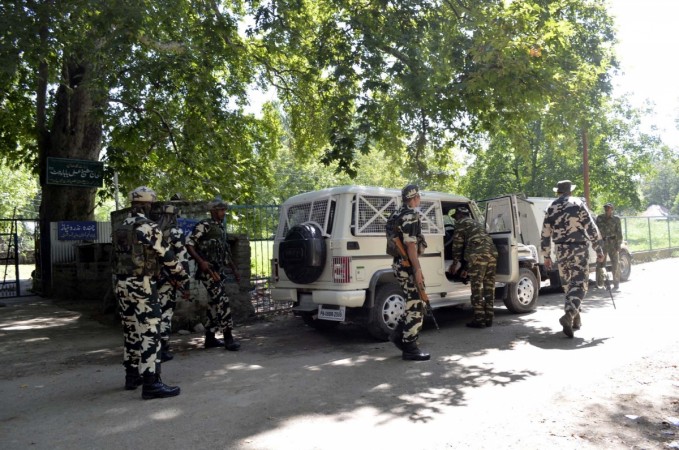 A woman was killed and two civilians were injured after a suspected terrorist travelling in an SRTC bus opened fire at a Central Reserve Police Force (CRPF) checkpoint on the Jammu-Srinagar national highway on Monday, before being killed. The issue of his death was raised in the Jammu and Kashmir Assembly on Tuesday.
Documents seized from the deceased have revealed the attacker's identity as Tanveer Sultan, son of Sheikh Mohammad of Bemina, Parimpora, Srinagar, the Indian Express reported. A pistol and an AK-47 rifle was also found in his possession.
The death of the young man reportedly led to uproar in the Jammu and Kashmir Assembly on Tuesday. The People's Democratic Party (PDP) and the National Conference (NC) sought details of the encounter from the government. An NC MLA also accused the government of staging a fake encounter, according to Greater Kashmir.
Security has been ramped up on the highway as the Amarnath Yatra is in progress and there have been threats against the pilgrims. At least 125 central police force companies and over 15 teams of the National Disaster Response Force (NDRF) were added to the existing troops in the area to deal with any mishap that may take place.
The bus on Monday evening came from Srinagar side and stopped at a checkpost in Kud, Deputy Inspector General of Police for Udhampur-Reasi range Surrinder Gupta was quoted as saying by the Indian Express.
"The police and the CRPF were frisking all the Jammu-bound vehicles at Kral Nallah area in Kud when they stopped an SRTC bus, and during its checking, an unidentified suspected militant opened fire at them this evening," Director General of Police (DGP) K Rajendra Kumar told Press Trust of India on Monday.
The terrorist was reportedly shot down in the next 10 minutes. Senior police officials rushed to the spot after the attack. Traffic on the highway suffered as it was held up due to security reasons.
Two suspects in Army gear were spotted at the highway on Domail two days ago, following which a security alert has been issued, the newspaper reported.