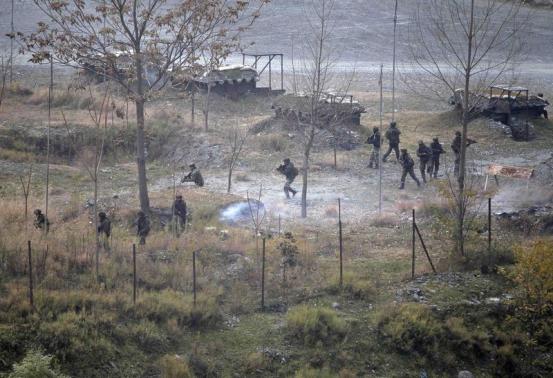 The security forces in Jammu & Kashmir killed five Jaish-e-Mohammad (JeM) and Hizbul Mujahideen (HM) militants in an encounter in Shopian district on Thursday.
"The several hours long encounter in Shopian district ended with the killing of five dreaded militants," PTI quoted Kashmir's Inspector General of Police Abdul Gani Mir as saying.
The security forces have also recovered numbers of arms and ammunition including three AK assault rifles, one SLR and a pistol from the dead militants.
A joint operation by police, army and Central Reserve Police Force (CRPF) was led early on Thursday afternoon after receiving specific inputs about the presence of militants in Shopian.
The encounter broke out between the security forces and the militants when the former began hunting the latter. The militants opened fire at the security forces, which retaliated and blocked their escape when the militants tried fleeing.
A search team is still carrying out hunt for in case more militants are hiding in the area.
This incident has come up in line with Wednesday's, when the Indian Army and Kashmir police together indulged into a gunbattle with a Pakistan-based Lashker-e-Toiba ( LeT) militant, who was killed in a six-hour-long encounter.