If you did not have enough reasons to be excited for Halloween 2014, JK Rowling has given you a new one. The bestselling author has promised a new story based in the Harry Potter wizarding world just in time for Halloween.
The impending 1700-word story, set to be published for free on Pottermore in time for Halloween 2014, will be Rowling's illuminating first-person reflections on Professor Umbridge, Harry's nemesis from the fifth Harry Potter book "Order of the Phoenix", a spokesman for the author confirmed with The Guardian.
Meanwhile, according to The Independent, the statement on Pottermore reads: "Umbridge is not only one of the most malicious Potter characters, she is the only person other than Lord Voldemort to leave a permanent physical scar…"
As Harry Potter fans would easily recall, the cruel Hogwarts professor - who was played by Imelda Staunton in the film series -had punished Harry to use a Blood Quill, which scars and bleeds the user and repeatedly write "I must not tell lies".
Rowling has been posting new installments of Harry Potter stories in Pottermore, the fan website, including a one titled "Dumbledore's Army reunite for the 2014 Quidditch World Cup final!"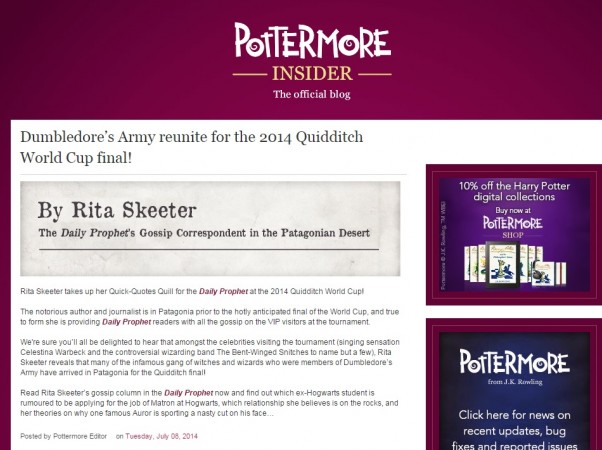 However, Rowling is not just busy writing new stories set in the Harry Potter world. Earlier this month, Mirror had reported that the bestselling author wants to recreate a cottage - similar to the one in which the much-loved Hogwarts caretaker Hagrid lived - in the grounds of her £1.9million estate.
There have also been rumours about Rowling writing screenplays for three Harry Potter spin-off films, based on her book "Fantastic Beasts and Where to Find them".
The movies, which will be directed by David Yates, are set to be released in 2016, 2018 and 2020, according to The Independent.
However, inspite of fans speculating about and begging for another Harry Potter novel, a statement on the writer's website revealed that there are no such plans for the near future.
"I have always refused to say 'never' to this question, because I think it would be foolish to rule out something I might want to do in a few years' time," Rowling posted on her official website, regarding the possibility of another book in the series.
"However, I have no immediate plans to write another Harry Potter novel, and I do think that I have rounded off Harry's story in the seven published books."