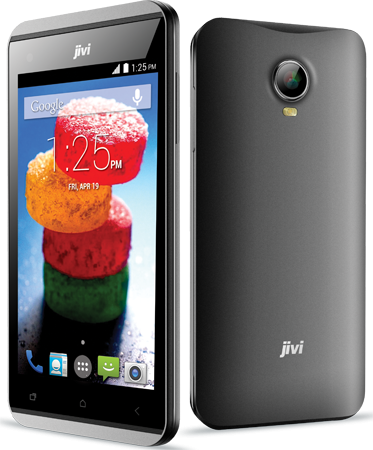 Indian budget android smartphone manufacturer Jivi has launched another smartphone in the market. Jivi JSP Q56, the manufacturer claims, is the cheapest smartphone available in India powered by a quadcore processor. Priced at ₹4,399, Jivi JSP Q56 will be available exclusively through Amazon India.
The JSP Q56 sports a 4.5-inch IPS FWVGA touchscreen display and is coupled with 512MB worth RAM memory. JSP Q56 also boasts 4GB internal memory with an expansion capability up to 32GB through a MicroSD card.
Powered by quadcore 1.2GHz unnamed processor, the device comes with two different sized SIM slot (Micro and Mini) and pairs up an 8MP rear camera with autofocus and an 2MP front camera. For power consumption requirement the JSP Q56 features a 2000 mAh battery with a claimed battery life of up to 240 hours of stand-by time including 10 hours of talk time capability.
It runs on android Kitkat 4.4 operating system and also packs in essential connectivity options including 3G, WiFI, Bluetooth, Accelerometer, EDGE, GPRS and GPS. The JSP Q56 also supports regional Indian languages, including Hindi, Urdu, Bangla and Arabic languages.
Months back Jivi mobile debuted on the country with a cheap android handset JSP20 just at Rs. 1,999. The 3.5-inch smartphone is powered by 1GHz processor and Android Gingerbread OS and is still available through Amazon India.