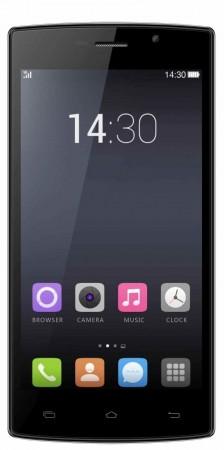 Making a debut in India, Adcom has announced the launch of its first ever smartphone Adcom KitKat A54 in the country.
The A54 is a dual SIM smartphone and sports a 5-inch IPS LCD display and is powered by a quad-core processor, 1GB RAM and 4GB ROM memory expandable up to 32GB via a micro-SD card.
The device is also powered with the Android 4.4 KitKat OS, and bundles necessary connectivity features including GPS and 3G. Powered by a 1,750 mAh battery, the device has a claimed battery life of a day.
The A54 also features an 8MP rear Camera with autofocus and flash coupled with 3.2 MP front camera. The smartphone also recognises voice commands such as "Cheers Camera" and "Awake feature", which keep the gadget's screen on even while charging. On the connectivity front A54 is loaded with Bluetooth 4.0 and WiFi 802.11 along with varied USB options.
"Adcom A54 is one of the fast & most powerful smart phone that provides the best of both the worlds – Features and Good Looks at a reasonable price without compromising on any user experience. The phone has been designed/structured keeping in mind the dynamic needs without any constraints. Adcom A54 emphasizes our motto - most affordable and technologically richest products," explained Sanjeev Bhatia, Director, Adcom.
Th brand has reportedly signed a deal with the online retail giant on this regards.
Available at an introductory price of ₹5599, the A54 comes with bonus accessories including Free Back Cover and Screen Guard. The smartphone will be available exclusively on Snapdeal from 30 November 2014, after which it will hit brick and mortar stores too.