Jio Phone 2 went on sale in India for the first time as scheduled on August 16, bringing a new affordable option for millions of feature phone users to connect to the internet. Due to the overwhelming popularity of Jio Phone 2, the smart feature phone was sold out in a jiffy.
Several potential buyers trying to purchase Jio Phone 2 were left disappointed as the order page went offline shortly after the sale began. Buyers who clicked "Add to Cart" on the phone got an error message "Page under maintenance" and they were unable to purchase the phone again.
Jio Phone 2 is no longer available on Jio.com, but the handset can be purchased again soon. The next flash sale for Jio Phone 2 will be hosted exclusively on Jio.com at 12 p.m. on August 30. The JioPhone-successor can be purchased at an introductory price of Rs 2,999 during the upcoming sale.
Reliance Jio is also charging Rs 99 towards the delivery of Jio Phone 2. It will take 5-7 days before the handset is delivered, post which users must activate the SIM card from the nearest Jio Store. Reliance Jio also has three prepaid plans, priced at Rs 49, Rs 99 and Rs 153, specifically designed for its feature phone users.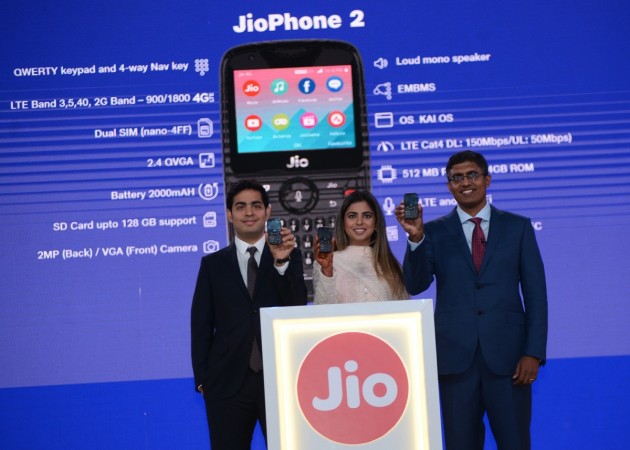 The initial success of Jio Phone 2 is an early indicator that the new smart feature phone is headed the same route as its predecessor. According to the company, JioPhone sales crossed 25 million units in less than a year and helped Reliance Jio top the feature phone market in India.
Jio Phone 2 is a compelling feature phone at such a low price. The dual-SIM feature phone defies the notion of being "dumb" as it supports WhatsApp, Facebook, YouTube and Google Maps. Jio Phone 2 succeeds last year's JioPhone by offering upgraded features, such as a 2.4-inch display, QWERTY physical keypad, 2MP rear-facing camera and a VGA front camera.
Jio Phone 2 comes with a 2,000mAh battery, microSD card, 3.5mm headphone jack, FM radio, 512MB RAM, 4GB storage, 4G VoLTE and VoWiFi support. The handset is designed for Indian users, with support for several local languages, including Hindi, Marathi, Gujarati and 19 others. Users can also connect Jio Phone to HDTV via JioMediaCable and enjoy JioCinema and JioTV on big screens.
In addition, Jio Phone 2 comes with Google Assistant as well as Hello Jio digital voice assistant.