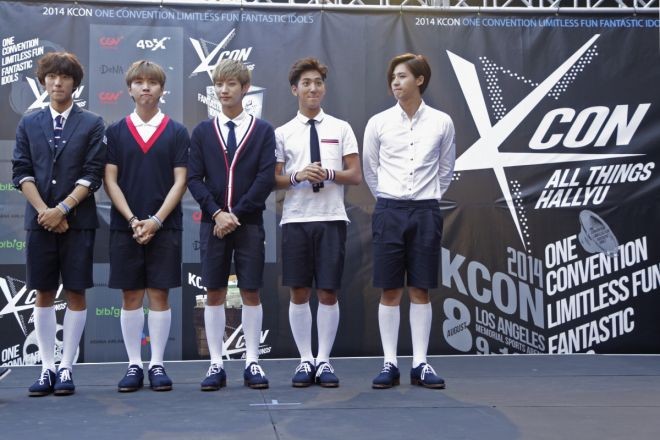 South Korean idol group B1A4 has finally spoken up on the recent SNL Korea sexual assault controversy. B1A4 members became a victim of the sexual assault controversy after a female staff inappropriately touched the male idol hosts on the stage.
Jinyoung, the lead vocalist of B1A4, spoke about the sexual assault controversy and said that they will move on from the controversy and focus on their album. "Honestly, it happened so suddenly that we didn't know what to make of the situation. So we watched the video again, and we thought it would make the fans worry a lot. As big as the controversy is, we're going to power through and work harder on our album," he said, according to Soompi.com.
The issue came to limelight after a video of the staff inappropriately touching the members of the group went viral. The viral video starts with a brief introduction of the group, but it takes a shocking turn when a staff touches the B1A4 members in the genital area and runs off, leaving the B1A4 members in shock.
Soon after the video went viral, SNL Korea took to Facebook to apologise to the B1A4 members and their fans. "Hello, this is 'SNL Korea'. We apologise to the B1A4 members and their fans about the violent actions against the hosts B1A4 in the video that was released on Facebook on the 26th. It was an unfitting action toward the hosts, and we will be careful that this does not happen again. We apologise once again to B1A4 members and their fans," the Facebook post reads, according to Allkpop.
Not only SNL Korea, but comedian Lee Se Young, who was one of the women to inappropriately touch the B1A4 members issued a handwritten apology. "Hello, this is Lee Se Young. I apologise for worrying everyone with my wrongful actions. I personally apologised to each individual member on set, and with this letter, I want to once again apologise to all the fans and B1A4 members. I'll reflect on my actions time and again so that something like this does not happen again. I sincerely apologise."