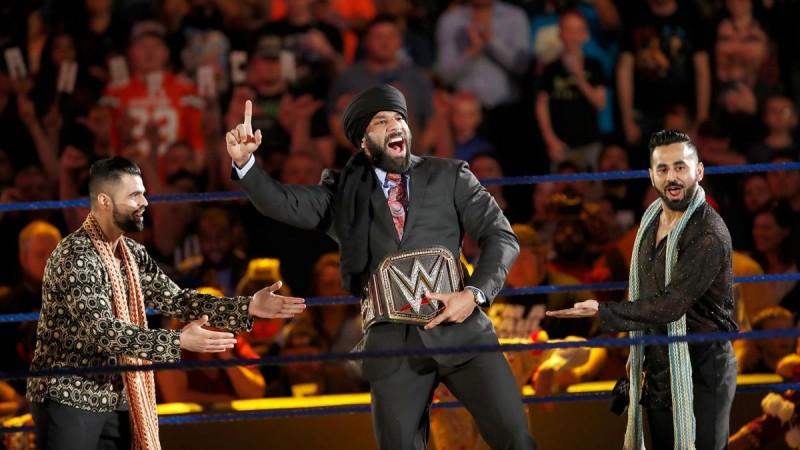 Canadian pro wrestler Jinder Mahal, billed to represent India, wanted to savour his dream of defending the WWE Championship belt at New Delhi during the WWE India tour 2017. On Tuesday November 7, AJ Styles hindered Jinder from holding the title any longer.
Styles recorded a successful win against Jinder at the SmackDown Live event at the Manchester Arena in England, to become a two-time WWE Champion.
Jinder has been scheduled to take on Kevin Owens at the WWE Live India event, which will take place on December 8 and 9 at the Indira Gandhi Indoor Stadium in the national capital. The match was supposed to be fought over the WWE Championship.
Styles, who earned the respect of pro wrestling fans yet again for competing in the ring for four nights in a row, is not one of the WWE superstars a part of the WWE India tour.
Styles, a veteran in the sports entertainment business, took on Finn Balor at the WWE TLC 2017 pay-per-view event last month, after accepting the fight on just a couple of day's notice. He had been a part of a WWE road event the night before. Subsequently, Styles made in-ring appearances at the Monday Night Raw after TLC and also Tuesday's SmackDown Live.
WWE India Tour 2017 schedule
December 8 matches
WWE Championship Match: Jinder Mahal with The Singh Brothers vs Kevin Owens
Singles match: Roman Reigns vs Braun Strowman
RAW Tag Team Championship Match: Dean Ambrose and Seth Rollins vs Cesaro and Sheamus
Singles match: Finn Balor vs Bray Wyatt
RAW Women's Championship Match: Sasha Banks vs Alexa Bliss
WWE Cruiserweight Championship Match: Kalisto vs Enzo Amore
Singles match: Jason Jordan vs Elias Samson
3 on 4 Handicap Match: Apollo Crews, Titus O'Neil, Goldust vs Luke Gallows, Karl Anderson, Bo Dallas, Curtis Axel
December 9 matches
Tag Team match: The Shield vs Kane, Cesaro and Sheamus
Singles match: Braun Strowman vs Samoa Joe
Singles match: Finn Balor vs Curtis Axel with Bo Dallas
Singles match: Jason Jordan vs Bray Wyatt
Singles match: Goldust vs Elias Samson
Mixed Tag Team Match: Kalisto and Sasha Banks vs Enzo Amore and Alexa Bliss
Tag Team match: Apollo Crews and Titus O'Neil vs Luke Gallows and Karl Anderson
NOTE: The schedules can see last-minute changes. Tickets can be booked HERE.