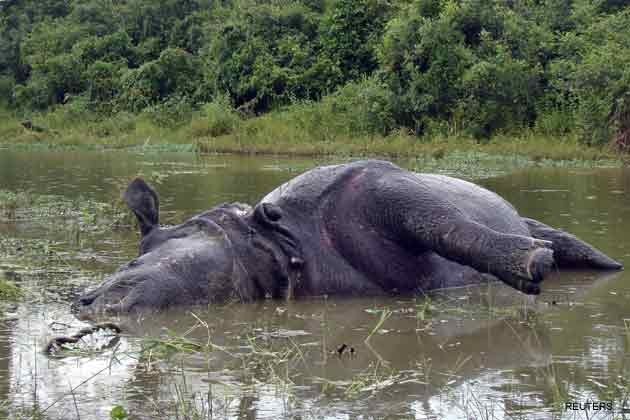 A female rhino was recently killed in West Bengal's Jaldapara Wildlife Sanctuary by two male rhinos for apparently refusing to copulate. Buxa Tiger Reserve Divisional Forest Officer (DFO) Apurba Sen, who is currently in charge of the Jaldapara Wildlife Sanctuary, however, told International Business Times, India, that such infighting was common among rhinos.
"The incident happened two-three days ago, and we found the carcass fresh, possibly just three-four hours after the female rhino died, on the bed of the Torsa river," Sen told IBTimes India on Monday.
"The doctor who conducted the post-mortem told me the female rhino was a 'sub-adult' — around four-five years of age," said Sen. He explained that a rhino is considered an adult if it is aged between seven and 30-40 years.
"Infighting among rhinos is a natural phenomenon," Sen said, adding that little can be done to stop the deaths of rhinos in such a manner. It is also common when the pachyderms are in heat, which is usually during the rainy season, he said.
Interestingly, it's not always the female that gets killed. "Sometimes a male rhino will kill another male rhino when vying for a female rhino. It's all in order to widen the gene pool," Sen told IBTimes India.
The death of the female rhino is expected to incite further infighting among those of her species at the sanctuary. The current rhino population of Jaldapara Wildlife Sanctuary is around 280. As the population increases, so will the infighting, Sen said.