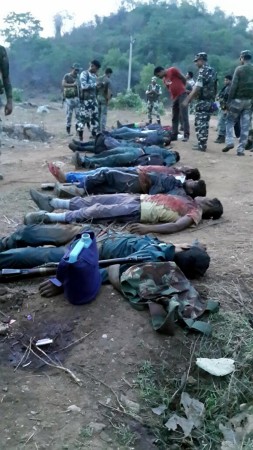 Six people were killed by suspected Maoists on the outskirts of Ranchi on Tuesday, police sources told International Business Times, India. The bodies of those dead were found in the Hidindag village and the deceased were all local residents, the sources said. Hidindag is 20-25 km away from Ranchi, the capital of Jharkhand, which is considered a Maoist-infested state.
The police have identified one of those who have been killed as Zakir. All the deceased apparently had criminal antecedents. "Let us clear this up. This is not a civilian vs. criminal encounter. All six men had criminal records," they said.
The killing was reportedly carried out by the People's Liberation Front of India, a splinter organisation of the Maoists. The reason behind the killings was still not ascertained and an investigation into the matter was underway, the police said.
This killing in Ranchi district is the second major one of its kind in a matter of 24 hours. The police suspect Maoists also killed three youngsters — two brothers among them — in the Kakara jungle in Namkon.
Maoists have been especially active in Jharkhand and Chhattisgarh in the past few months. The region, along with some parts of other states like Maharashtra, Madhya Pradesh, Odisha and West Bengal, are called the "Red Belt" because Left-wing extremism runs rampant in these areas, despite several steps taken by the government.
Earlier this month, at least 100 Maoists had attacked an Indo-Tibetan Border Police camp in Kondagaon in Chhattisgarh. Maoists have also been known to besiege patrolling parties or transport vehicles of security forces active in the area. They are believed to have killed seven CRPF personnel in an attack in Chhattisgarh in March this year, and seven policemen in Jharkhand in January.