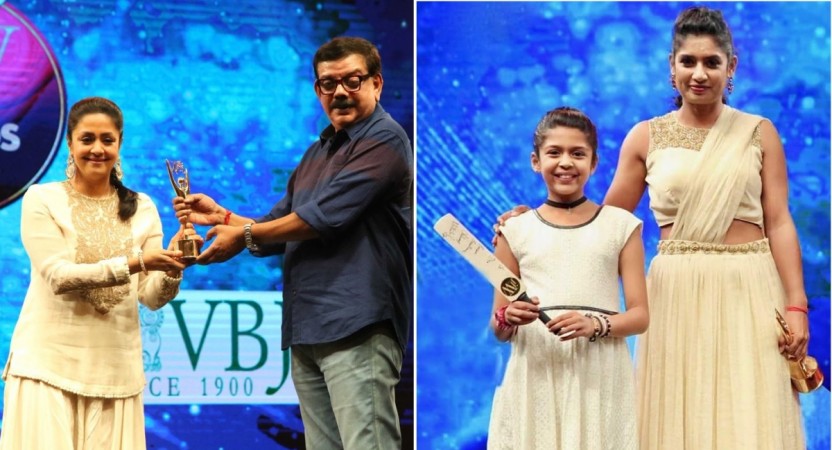 When Tamil actress Jyothika entered wedlock with superstar Suriya in 2006, she was at the peak of her career. However, the actress took a break from the profession to raise her kids before making her grand comeback with the 2015 movie 36 Vayadhinile, produced by her husband.
Check: 5 successful 90's actresses who made a mark in South Indian industry
Now, Jo is basking in the success of the film Magalir Mattum and she was recently honoured with the Just For Women (JFW) Awards 2017 at Sri Mutha Subbarao Hall in Chennai on September 23.
Over a month after the award ceremony, its organisers have now released some videos of the event and Jo's speech after receiving the award from director Priyadarshan is truly inspiring. She talked on all the women, who have been supporting her till date, from her mother, mother-in-law, friends, female fans and her daughter.
"I believe that women empower women. There are many women who are behind me. First, at the age of 17, it was my mother. She's a ferocious lady. One day she told me: Jo, you have to stand here and face people and face the world. I want money in your bank because if you haven't met the right man, keep your head high and walk out of the relationship. It's not worth it [sic]."
Jyothika is also heard thanking her mother Seema Sadanah for teaching self-worth and self-respect by practising equality at home.
Here's Nivin Pauly's fanboy moment picture with Jyothika
The actress, who was visibly emotional, went on to thank her mother-in-law, Lakshmi Sivakumar, whom she calls a "queen" for raising her "prince charming" Suriya and teaching her traditions and values.
"At 27, I got married and met yet another dynamic lady, someone with a warm touch and gentle heart very opposite to my mother. Who taught me traditions and values. She taught me how to balance life and blend between my ferocious nature. She taught me how to bring in values in that."

"I call her a queen, because only a queen can raise her prince, who's very much required for today's society with all these cases that we hearing. It is important for women to get their husbands in right track and bring up their children in the right way. And her little son she has raised him to be my prince charming because of him I am here today. I very proudly say he backs me in everything I do and that's because of Amma [sic]."
Jyothika also thanked god for gifting her beautiful daughter and promised that she will make sure Diya will also stand on the dais receiving this award a few years after.
Also check: Celebrity moms of South India
"God has given me a gift, my daughter Diya. Her smile every morning is my empowerment. She is the one who makes me very proud and I promise this to all of you. 10-15 years henceforth, I will make sure that she stands on this dais receiving this award. We are gonna be strong, right Diya? [sic]"
Watch Jyothika's inspiring speech here:
Diya's fan moment with Mithali Raj
Mithali Raj, the captain of Indian Women's cricket team, was also honoured with JFW Award this year. During the event, she was asked to give an autographed bat to one of her biggest fans, who was none other than Suriya and Jyothika's daughter Diya.
The 10-year-old, who was excited to receive the gift from Mithali, said she loves the sport. Meanwhile, her proud mom was spotted taking photos of the memorable moment on her phone.
Watch the video of Diya's fan girl moment with Mithali here:
-