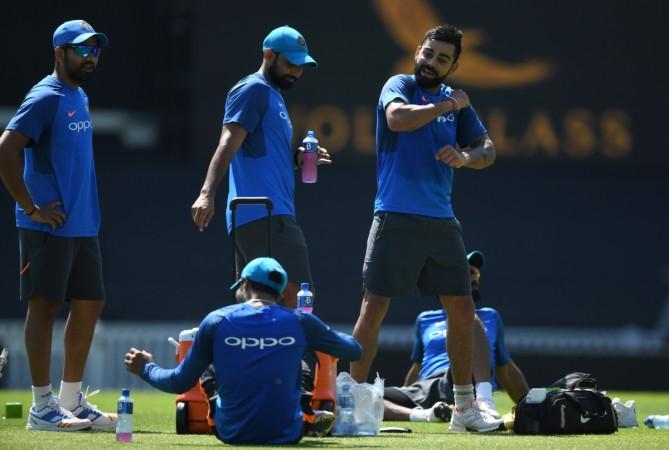 Caribbean beaches are irresistible. Most vacation itineraries will feature a trip to one of the scenic seasides in the region. And India, who are on their limited-overs tour of the West Indies, have not missed the opportunity to sway away from their routine and relax during their stay at the islands.
After winning the second One Day International of the five-match series in Port of Spain on Sunday, June 25, Virat Kohli and his men have been enjoying a break before the third match in North Sound on Friday. The Men in Blue made the most of a day off by involving in fun activities at the beaches in Antigua.
In a video posted by the Indian Cricket Team's official Facebook account, all-rounder Hardik Pandya goes about narrating how the fun-filled day was spent by his teammates and himself. Boarding a minibus, the Mumbai Indians star along with a few others players — Shikhar Dhawan and his family, Ajinkya Rahane, Kuldeep Yadav, Rishabh Pant, Mohammad Shami — set off to the seashore.
Quite a few others, including skipper Kohli and MS Dhoni, joined the unit at the beach and all of them involved themselves in a game of beach volleyball. As the sun set, Dhawan and Pandya tested their adventurous side by riding a jet-ski.
After a gruelling season of Test cricket, which was followed by the Indian Premier League 2017 and the Champions Trophy, India have earned a much-needed break to rejuvenate themselves. While the action on the field in the Caribbean has not been demanding, Kohli and his men have used the tour to stay away from the unsettling issues surrounding the Indian cricket, including the appointment of new coach after Anil Kumble's exit.
If India manage to take an unassailable lead on Friday, Kohli will then be tempted to test the bench strength and Delhi dasher Rishabh Pant is likely to get his maiden ODI cap. Notably, wrist-spinner Kuldeep Yadav impressed in the second ODI, right after his rain-marred debut, with a three-for that derailed the West Indies' chase of 311.