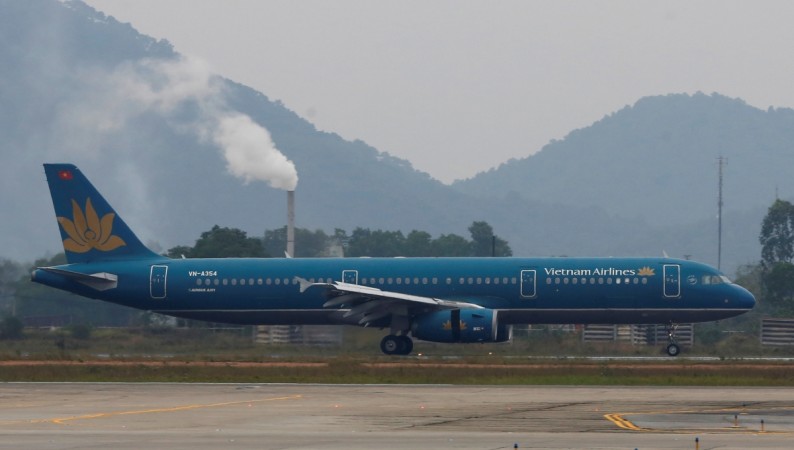 Jet fuel prices are on the rise, in tandem with rising crude oil prices. Globally, prices of jet fuel, also called aviation turbine fuel or ATF, have gone up between 38 and 47 percent in 12 months based on April 7 rates, according to civil aviation body, the International Air Transport Association (IATA).
The increase is the lowest in Asia and Oceania at 38.9 percent and highest in Latin and Central America, at 47.5 percent. Rising jet fuel prices are a cause for concern for air carriers, since fuel prices account for 25-30 percent of total operating costs.
The weekly price increase as of April 7 is in the range of 4.9 percent (Asia and Oceania) and 3.7 percent (Latin and Central Asia).
The overall jet fuel bill for carriers globally in calendar year 2017 is estimated at $25.5 billion presuming a price of $64.8 billion, according to the IATA.
In India also, ATF prices have increased over a 12-month period, despite the 5.17 percent cut with effect from April 1, 2017. A kilo litre (kl) of jet fuel now costs Rs51,482, down from Rs 54,293 per kl till March 31, 2017.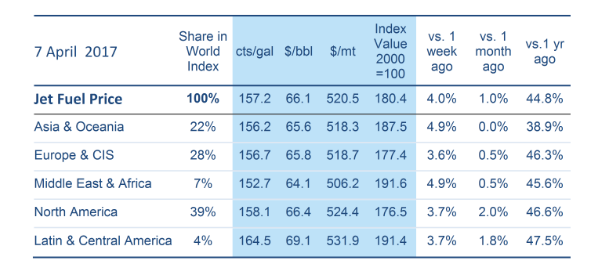 In dollar terms, jet fuel costs $544/kl in Delhi, or $86.48 per barrel (1 kl = 6.29 barrel).
The price was Rs 46,826/kl as on October 1, 2016 and Rs 42,157/kl as on April 1, 2016, translating into an increase of about 9.94 percent and 22.11 percent, respectively, when compared to the latest price.
Jet fuel is predominantly supplied by state-owned oil marketing companies, Indian Oil Corporation, Hindustan Petroleum Corporation Ltd. (HPCL) and Bharat Petroleum Corporation Ltd. (BPCL). Indian Oil had 101 aviation fuel stations, according to its annual report for 2015-16.
The 5.17 percent price cut won't reflect in the Q4 results of the 12 Indian aviation firms, three of which — Jet Airways, SpiceJet and IndiGo (owned by Interglobe Aviation) — are listed. The others include national carrier Air India, AirAsia India, GoAir, Vistara and Air Costa.
What is jet fuel/ATF?
"Jet fuel is a colorless, combustible, straight-run petroleum distillate liquid. Its principal uses are as jet engine fuel. The most common jet fuel worldwide is a kerosene-based fuel classified as JET A-1," explains Indian Oil Corporation.
How is the fuelling done?
"Jet fuel is dispensed from specially designed refuellers, which are driven up to parked airplanes and helicopters. Major airports have hydrant refuelling systems that pump the fuel right up to the filling outlets on the tarmac through underground pipelines for faster refuelling. Essentially, ATF is pumped into an aircraft by two methods: Overwing and Underwing. Overwing fuelling is used on smaller planes, helicopters, and piston-engine aircraft and is similar to automobile fuelling - one or more fuel ports are opened and fuel is pumped in with a conventional pump. Underwing fuelling, also called single-point is used on larger aircraft," says Indian Oil Corporation.
Meanwhile, crude oil prices for India as computed by the government's Petroleum Planning and Analysis Cell (PPAC) rose to $54.92/bbl on April 12 from $51.28 on March 31, according to an update by the union petroleum and natural gas ministry on Thursday (April 13).